This post is also available in:

עברית (Hebrew)
A cultivating day for unmanned systems enthusiasts at the 2019 AUS&R Conference and Exhibition.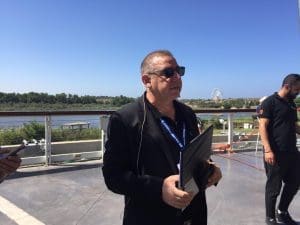 A number of innovative and creative start-ups and companies have gathered to showcase their technologies and UAS solutions at the Lago Conference Center in Rishon LeZion. Among the booths, technologies ranging from unmanned vehicles and systems to solutions that increase situational awareness for such systems are being showcased towards investors, entrepreneurs, students, soldiers, and police officers.
Earlier today, several companies have been given the opportunity to present attendees with a live demonstration of their systems and solutions.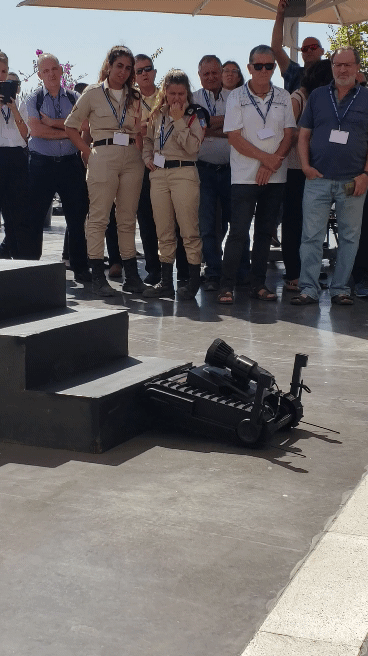 The first firm to go up was General Robotics. General Robotics showed off their anti-terror robot, the DOGO Mark II. The system comes equipped with eight cameras, granting the robot's operator with 360 degree vision at all times.
The unmanned system can be fitted with a number of different payloads, including a blinding flashlight, pepper spray, or even a handgun. With its simple controls, ability to easily climb stairs, and Point & Shoot technology, it is no wonder that the DOGO Mark II is currently being operated by SWAT and infantry forces all around the world.
Next up was SWYFT Aeronautical Technology. SWYFT, being an acronym for See Where You Fly To, has showcased their eyeFLIGHT flight-camera. The eyeFLIGHT is revolutionary in the sense that it grants quadcopter drone operators the ability to see in the direction where the drone is flying, regardless of flight direction and payload being used.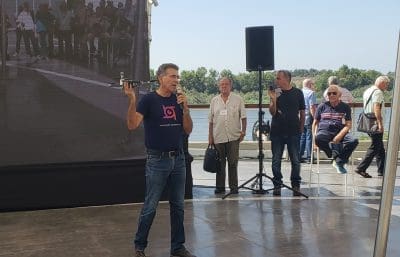 SWYFT has noted that the dangers with drones lie with their operators and not the drone itself. Because of this, the company has developed a drone attachment that makes operating the drone feel as though you are sitting in the drone, flying it.
The third technology demonstrated was the Easy Aerial, powered by BWR- Blue White Robotics. BWR has shown off their tethered version of the Easy Aerial. The tether line links the drone with advanced data-over-power (DOP) technology. The technology grants drones with a limitless flight time and ultimate data security.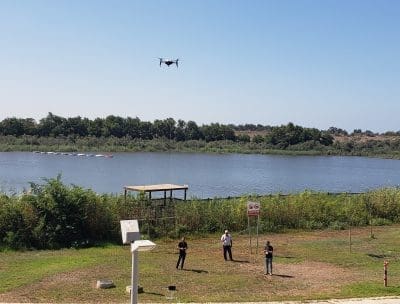 The system can be operated autonomously, including landing and taking off from remote locations without any human intervention.
Finally, InfiniDome has shown off their GPS security solution – the GPSDome. The technology combats GPS jamming and spoofing technology to keep GPS secure. The technology can be attached to unmanned systems in order to preserve the continuity of autonomous navigation, even when GPS jamming and spoofing technologies are being used.
Drones utilize GPS to navigate to their destinations and in order to minimize drift. Without GPS, autonomous and semi-autonomous drones won't be able to fly, let alone navigate. With GPS jamming and spoofing technologies being easily purchased for just a few hundred dollars, technologies such as the GPSDome seem crucial towards the safe and secure operation of unmanned systems.