This post is also available in:

עברית (Hebrew)
Israeli satellites incorporate ground-breaking capabilities and technologies that upgrade the strategic capabilities of the State of Israel. The Ofek 16 Satellite successfully launched on July 6 at 04:00 in the morning is part of this program. 
The Space Administration at Israel Ministry of Defense's DDR&D (Directorate of Defence Research & Development) and IAI (Israel Aerospace Industries) successfully launched Ofek 16 to space through the Shavit 3-stage satellite launch vehicle from a test field at the center of Israel. 
Israel has been the 7th country in the world to achieve full capability in space (launch and satellites), and it is currently one of 13 countries in the world with this capability.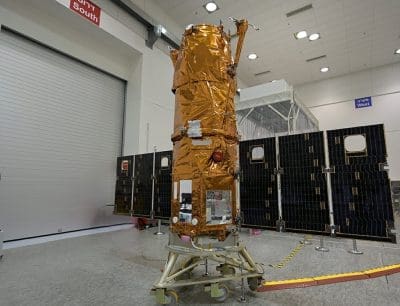 According to the original launch program, the satellite began to orbit around the earth and to transmit data. Engineers from Etgar Space Administration at IMoD's DDR&D and IAI have started a series of pre-planned tests to determine the propriety and performance level of the satellite before it begins its full operational activities.
Ofek 16 is an electro-optical reconnaissance satellite with advanced capabilities. Its development has been based on the security administration's experience in developing previous satellites from the Ofek series, launched to space since 1988.
The development and manufacturing of the satellite and its launcher have been led by IMoD through DDR&D's Etgar Space Administration. IAI has been the major contractor of the project – having assigned the program to its Systems, Missiles and Space Group, together with the MLM division, which is responsible for the development of the launcher. The satellite's camera was developed and manufactured by Elbit Systems, with market leading quality/weight ratio. Tomer, an Israel government-owned company for the production of rocket propelling systems, and Rafael manufactured the engines of the launch missile. Many other companies have partnered in this project.
The Director of Security of the Defense Establishment (MALMAB) has been leading the operation from the defense aspect. Various IDF organizations, especially from the Intelligence Corps, Air Force and Space, have been also closely involved in the development. Once operational, IMoD will transfer the satellite under the responsibility of IDF's 9900 Geographical Visual Intelligence Unit.