This post is also available in:

עברית (Hebrew)
Facilities such as solar and cannabis farms, agriculture fields, other industrial facilities, and borders need 24/7 protection. Affective site security requires a constant patrol with teams around the site, sometimes for many kilometers. However, the operation of mounted patrolmen for long periods of time is costly in both resources and manpower. furthermore, their observation capabilities are not always sufficient. 
The Israeli startup Nando Drones has identified this problem that concerns the industry, security, and military sectors. They developed an innovative solution that provides security personnel with a real-time new point of view for effective, durable security. Nando provides a comprehensive and complete security solution based on an autonomous drone, with the unprecedented advantage – up to 70-minute flight time, much longer than the current solution in the market-  40 minutes limit offered by current drone solutions.  
The company was founded in 2017 by three entrepreneurs –  Zohar Simchi, Chairman (owner of Moked Matara security firm), Dvir Simchi, co-founder and CEO, and Nir Shaharabani, co-founder and VP Product. In order to bridge the gap they had identified, the three developed an autonomous security drone initially designed to fulfill the role of the patrolman. At a later stage, they identified the need for a wider technological solution, and currently, the company is offering a complete drone-in-a-box system or as they explain it- an autonomous drone-based platform that offers a wide variety of autonomic solutions.
Nando participates in the 7th batch of the iHLS Security Accelerator. "Undoubtedly, the program has exposed us to new directions in the market," said Nir Shaharabani. "We received positive support to negotiations that have started beforehand, and with iHLS support, we are in the midst of an advancing fundraising process. We are looking forward to participating in the AUS&R 2020 Conference and Exhibition for unmanned vehicles and robotics in September."  
The company's team includes hands-on experts in mechanical, electronics, and software engineering, drone experts, and more.
Nando's unique autonomous platform enables the transformation of any drone into an autonomous system.
The platform is based on several components:
The docking station

– Self-docking and self-charging station docks, safeguards, prepares, and launches drone between missions. The station includes meteorological systems and an internal temperature control system that provides all-weather durability. No human intervention is required for its operation.

An automation module

– interfaces with any drone and enables integration with the docking station. The module includes an autonomous landing system and a charging management card. The card enables fast charging and manages the process in a smart way that extends the battery life.

The drone

– developed in collaboration with an Israeli ground-breaking company. The drone features an extended flight duration (70 minutes with the automation module and camera), and high resilience.

A day and thermal-based night camera –

Uses an AI technology for real-time identification of a static or mobile human or vehicle from a 250 m distance during day or night.  Onboard, analytics enables real-time image processing in an effective and efficient way.

The control software –

dispatches the drone for its mission in two major modes: routine pre-programmed patrols or in reaction to triggers  from other security systems on site (sensor systems, indicative fence, radars, analytics cameras, etc.)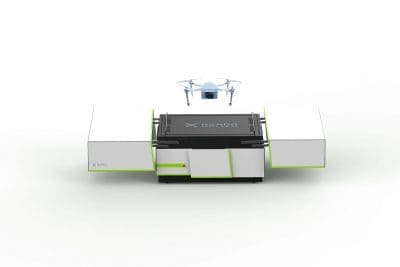 Nando's platform performs image processing to identify humans and vehicles in various sites. Upon identification, the drone halts its mission and turns to track the object. Video from the identification is live-streamed and the object is marked on a map. The system transmits the video to the control center and to the response team in real-time, enabling a decreased response time and the closure of the security circle. 
Thanks to the company's patent-based charging technology, the charging processes can be adapted to any weather condition, mission profiles, etc. The platform is based on a plug-and-play, simple UI that can be operated from anywhere in the world.
The technology's target market includes first and foremost security and HLS organizations, civilian and military. The platform is also designed for infrastructure inspection and monitoring.
For the last two years, Nando has been operating two successful pilots: one in a cannabis farm, and another in a solar farm.
As of the middle of June 2020, Nando is starting to operate the system in Oranit, a settlement in Israel.
As Nir Shaharabani evaluates, in the future, numerous manual tasks will become autonomous, cutting costs and decreasing the extent of manned operations. This is exactly the right time to advance the drone world one stage forward: "Autonomous drone systems save operation costs and prevent errors, they are preferable from both the security and effectiveness aspects. Since the opening up of the sky, anyone can enjoy the new point of view. Undoubtedly, the sky's the limit!"