This post is also available in:

עברית (Hebrew)
The 6th Israeli Air Missile Defense Conference & Exhibition (IAMD) held today assembled the best experts and senior figures from this fascinating field from Israel, the US, Germany, France, with senior representatives of the defense industries and the IDF, as well as entrepreneurs and startups that showcased their innovative developments in missile defense at the spectacular exhibition.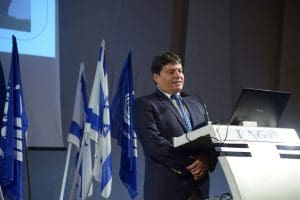 Among the companies which showcased their developments at the exhibition were several startups participating at the iHLS Security Accelerator.
The highlight of the exhibition was IAI's Arrow 2 and 3 missiles and Rafael's SkyHunter/Tamir and SkyCeptor/Stunner interceptors.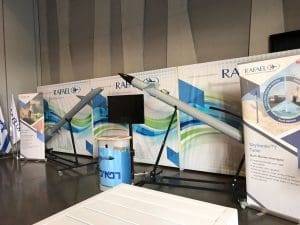 The participants at the conference and exhibition organized by iHLS, Israel Missile Defense Association (IMDA) and the Israel Society of Aeronautics and Astronautics (ISAA), had the opportunity to learn about the comprehensive state of missile defense arrays in Israel and the world.
A conference on this subject has become more and more important now that the world is learning about the advancement of the ballistic missile programs of Iran and North Korea and is starting to prepare for this challenge.
Among the speakers were the representatives of the US MDA Mr. Scott Kripowhich, MDAA representative Mr. RIki Elison, Dr. Sean Collins from Parsons, who discussed the American array, the representatives of industry giants Raytheon, Mr. Nathanael Sommer from Boeing, spoke about the cooperation efforts, while the European array was discussed by Mr. Yannick DevoUASsoux from ArianGroupe, France, Mr. Bernd Kreinenbaum from IABG, Germany, among others.
The Israeli missile defense array was presented by Moshe Patel, the Director to the Israel Missile Defense Organization (IMOD), as well as representatives from the Defense Ministry. Various aspects of the advanced systems and strategic concepts were discussed by IAF and Navy senior officers, as well as IAI representatives Dr. Ronit Nathanson, Mr. Shlomi Sudri, Mr, Eili Behar and Dr. Idan Paiss, alongside Brig. Gen. Pini Yungman, Mr. Yoav Oreg and Mr. Lior Haimoff from Rafael, and speakers from Rada, Elbit Elisra, and more.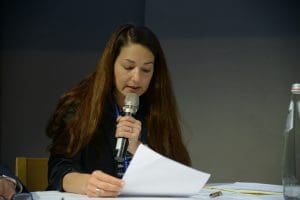 According to Mr. Patel, the multi-tier air defense architecture built by Israel in order to confront the many threats includes the Arrow 2, 3 missiles, David Sling system, Iron Dome and a vast array of sensors, when all the systems are interconnected. Many achievements were gained thanks to the support and full partnership with the Missile Defense Agency.
IMDA Award was presented to Major General (R) David Ivry for his continuous contribution in the missile defense field.