This post is also available in:

עברית (Hebrew)
A new IDF technological internet portal reflects the fact that, at least from the aspect of innovation and technology, the Israeli army is currently more open to entrepreneurship and sharing across fields, an interdisciplinary approach that enhances engineering R&D and supplies a wider response to the Ground Arm Command.
The new inter-military portal is the result of an initiative by Capt. Doris Fatlon, a workshop commander at the IDF Rehabilitation and Maintenance Center (MASHA). In a special interview with iHLS, she presented the portal of the Ground Technological Brigade, which is responsible for weapons development for the IDF Ground Arm.
Capt. Fatlon, who was involved in the development of a new AFV for the Ground Arm, is a Mechanical Engineer studying for a second degree in Biomedical Engineering.
18 months ago, she and her colleagues identified the need in canceling the separation existing among engineers from different disciplines in order to let them experience additional fields of interest. This was based on her personal experience in a fascinating inter-disciplinary project she was involved in. It became clear that entrepreneurship and innovation must be developed among the engineers arriving after academic studies, letting them think about external projects and have a dialog with people from other fields.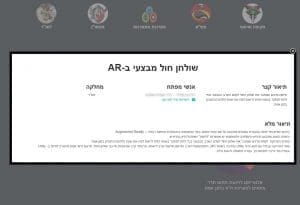 The new IDF portal was established in attempt to connect all these elements. The portal encompasses engineering projects from all fields of the Ground Technological Brigade, e.g. vehicles, tunnels, data science, machine learning, and more.
The portal is accessible to whoever deals with engineering development, enabling anyone to choose to participate in a project of interest which is not at his or her speciality field. The projects respond to various operative needs. The participation in the projects is based on the 80/20 model, i.e. the engineers work on their own projects for 80% of the time, leaving 20% of the time to the external projects they have chosen.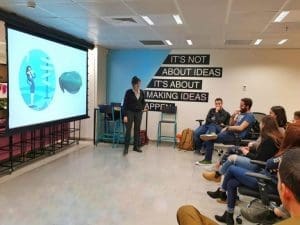 The portal showcases all the current engineering projects, each with its summary, operational requirements, key persons, leading department, etc. A contact with the relevant department head can be made through the portal, and if there is a matching – the two sides decide to work together.
The portal launch included all the projects showcased, and a hackathon was organized, with products presented to a committee led by the Head of the Ground Technological Brigade.
In order to encourage connectivity, a group which includes the project initiators is currently established will include the project initiators, and it is intended for networking, community forming, sharing dilemmas, etc.
As an example to the portal's success and the spirit of sharing and entrepreneurship, Capt. Fatlon mentions the drone on AFV project, which included the customization of a commercial technology according to the Army's specific requirements. Thanks to the portal, the portal initiator succeeded in recruiting 10 more engineers from various fields of expertise, working together, with each of them contributing their special insights.