This post is also available in:

עברית (Hebrew)
The message from the intriguing Future Forces Conference held today was that armies are already adopting full autonomy technologies while keeping man-in-the-loop. The conference, organized by iHLS for the sixth year, showcased an impressive variety of innovative technologies from all fields, from border security to data and information solutions.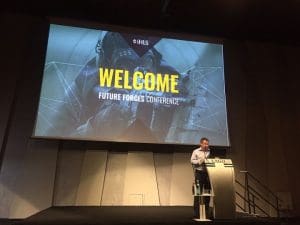 The conference was narrated by Col. (res.) Arik Davidi, formerly a Brigade Commander at the IDF Armored Corps, a court of appeals judge (res.) and the owner of a security consulting and homeland security company, who emphasized Israel's global leading role in the development of future technologies and unmanned systems.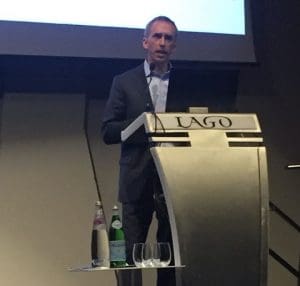 The conference was opened by a keynote address by Marcel Lettre, Vice President, National Security in Lockheed Martin Government Affairs, who presented the complex strategic setting and the rapid technological change. He elaborated on Lockheed's transformational R&D in supersonics, autonomy (mainly rotor wing), quantum, hybrid airship, directed energy, and more. Currently, the focus is on early-prototyping and shorter cycle time from acquisition to fielding.
Col. Eyal Doron, Head of Weapon Branch, Ground Arm Command in the IDF, presented the autonomy and automation solutions in border security as well as information processing technologies. He presented the future approach to border security, which is in fact already applied by the IDF today: Smart high posts with observation and terrain dominance capabilities, smart fence, and a sensor system that replaces the patrol soldiers.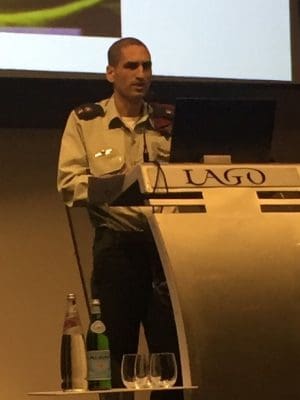 The combatants will stay as reserve and if needed, they will arrive at the scene with situational awareness. The routine patrol missions are operated by UGVs equipped with sensors and combat capabilities, drones that will be operated from a rear command center, and the MARS information processing system, which will also activate the autonomous forces. The vision for the future: routine patrols will be operated autonomously, almost without soldiers at the end.
Tactical warfare was at the center of the presentation by Lt. Ryan Gity, Head of Autonomous Land Systems and Infantry at Israel's DDR&D (MAFAT). He elaborated on urban warfare challenges, which include the 360-degree threat, anti-tank weapons, cyber, electronic warfare, etc. Lt. Gity presented innovative technologies, such as Piggion for accurate shooting through a sight with a computing platform, a system that joins fire capability with information collection, warriors' physiological monitoring systems, and technologies for improving the combatant's survivability – personal armor and uniforms.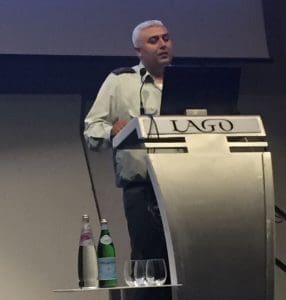 Various aspects on human-robot teaming were presented by Dr. Ofir Cohen, R&D Manager, Ground Robotic Autonomy, IAI. Among other technologies, he elaborated on the REX UGV capabilities, stressing that the human factor is always part of the autonomous array and can make adaptations and changes. He also referred to the challenge of the combined battlefield – integrating all the communication and connected systems.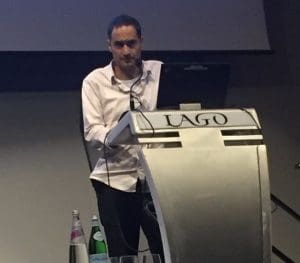 This unique conference was an opportunity for a closer look at some of the intriguing future systems.
Yair Dubester, CEO, APG Aero Systems future unmanned aerial vehicle. He showcased the Peres 4 UAV, a fixed-wing aircraft with VTOL capabilities. This unique UAV with a 4m wingspan reaches a 12-hour endurance. It has a minimal footprint and a hybrid propulsion.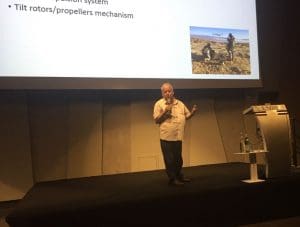 Prof. Gabby Sarusi, from the Photonics and Electro-optics Engineering Dept., Ben Gurion University focused on night vision glasses embedded with AR capabilities. He described how an up-conversion of infrared light into a visible imaging turns a simple silicone detector into an infrared detector. This is the basis for SWIR night vision glasses combined with AR technology.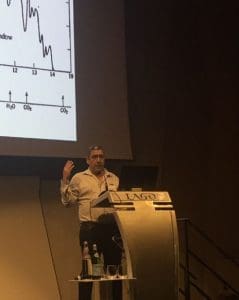 Yaniv Ben-Itzhak, Marketing & BD Manager, Advance Artillery & Missile Systems, IMI Systems, spoke about fire support in the modern battlefield. He elaborated on advanced launchers with effective ammunition for accurate shooting on building targets. In urban warfare, the accurate rockets can focus on the target without causing damage to its surroundings. The capabilities of the autonomous multi-purpose launcher Lynx were also discussed.
The future battlefield will undoubtedly be based on information and data systems. This aspect was presented by Prof. Oren Kurland, Associate Prof., Faculty of Industrial Engineering and Management, the Technion. He emphasized the importance of data science-based systems as a new discipline in the development of future technologies.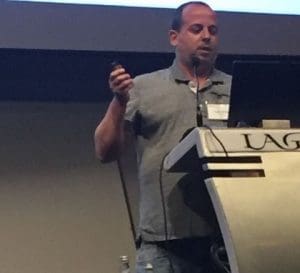 Thanks to all the lecturers and participants who attended this fascinating conference.