This post is also available in:

עברית (Hebrew)
MDA, Israel's national medical emergency service, will operate a new personal watercraft equipped for maritime emergency situations, that will help improve the period of time it takes medical help reach people that need help along the Kinneret beaches.
Every year, hundreds of thousands of people visit the Sea of Galilee beaches, and several incidents of drowning occurred there. An MDA personal watercraft will be stationed at the Ein Gev holiday resort, equipped with advanced medical gear including resuscitation devices, EpiPen injection for treating life-endangering allergy, etc.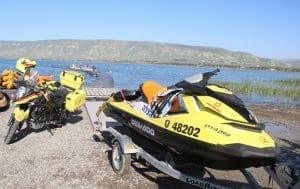 The marine vehicle will be operated by MDA volunteers with a dedicated license and an MDA paramedic. The vehicle will be operated seven days a week during the Passover vacation and during summer and will enable a rapid maritime access to people who need urgent medical treatment.
The project is a collaboration with the Jordan Valley Border Police and the Regional Authority.
The watercraft's high speed gives it an advantage in response time, assuring an immediate treatment in the crucial time of incidents of injury, snake bites, drowning, etc.
The operators of the maritime vehicle received a dedicated instruction by the local organizations, the maritime policing unit, the divers' unit, who are well experienced with the limits and meteorological conditions of the Kinneret.