This post is also available in:

עברית (Hebrew)
The leading conference on Autonomous Unmanned Systems and Robotics – AUS&R 2017, organized by iHLS for the fifth year, will include live demonstrations and air show, a fascinating exhibition and presentations by senior officials from the industry and military ranks.
This year's event will focus on the development of dual-use technologies, reflecting the interface between the military and security arena and the civilian world.
The advanced capabilities of the unmanned systems will be showcased at the air show and ground demonstrations.
A unique drone cage at the exhibition will showcase IdroneInsights' advanced drones in full action. The drones carry a variety of payloads developed by the company, e.g video capabilities, emergency and rescue equipment, surveillance systems. They are capable of operating under harsh weather conditions and supply photos, 3D maps, rapid person identification and more.
Among the participants, Airobotics develops drones designed for a wide array of civilian applications – the inspection of industrial installations, including ports, oil and gas industry and mines, as well as surveillance and mapping, security and emergency response. The company representative will elaborate on the future of autonomous drones in the defense and homeland security realm.
Tactical Robotics will be showcasing their Cormorant, a fully autonomous, VTOL UAV designed for both military and civil applications. Its primary military missions are cargo delivery, casualty evacuation (CasEvac), maritime missions and large scale, humanitarian relief.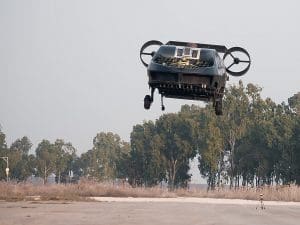 A representative from Mobileye, which develops cutting-edge technologies for the autonomous automotive industry will present the various aspects of this advanced field.
The American company Archarithms will also showcase its latest counter-UAV development, working with the US military services as well as at the commercial market.
The lecturers and exhibition presenters will include senior figures from the IDF, the Israel Innovation Authority, the defense industries as well as representatives from promising companies and startups.
The event will take place on September 18th, 2017 at the Lago Conference Center, Rishon LeZion.
Booth/sponsorship: Keren Kalderon  [email protected]i-HLS.com   +972-52-3653165