This post is also available in:

עברית (Hebrew)
The iHLS Security Accelerator is home to many innovative and successful startups. ListenApp is one of the first startups that's participated in the accelerator and presents an excellent example of an idea that has become an innovative and mind-blowing reality. The IMNA Solutions managed startup that developed a secure mobile communication technology has raised impressive funds, won key competitions and continued to develop its initial idea.
For more on their initial development click here.
The company has taken quite a few steps forward since. For one, it has developed two more products which branch out from their original idea, which uses audio analysis in order to find out if the person that you're having a phone conversation with is recording the conversation, put you on speaker mode, Bluetooth or trying to take a screenshot.
The new applications include ListenClear, which enables to clear the conversation from background noises, and an application that analyzes data leaking on the organizational scale. This means that you can set the app on a whole organization, see where and how the data is leaking and stop it.  
In the coming weeks, the company will make the next step and open their US-based offices in Maryland in order to raise more funds, continue their efforts in the R&D sphere and offer sales on a larger scale. The company's CMO, Meirav Naor, explained the move: "We've been to classic startup locations in the US like Palo Alto, but realized that Maryland will be a better location for us. It's a great area to try out our developments; governmental institutes, which are very present in that area, have shown great interest. Our target markets which include Pharma companies, governmental organizations, healthcare and IP entities are located in the Maryland\DC area".
Through their work at the iHLS Accelerator, the company has created a connection with Maryland and will start a Beta Phase pilot with hospitals in Chicago, New Jersey, and Maryland.
Israel Haikin, The company's founder and CEO, elaborated on the benefits of taking part in the accelerator: "We've been able to get useful advice and support. The accelerator's mentors have unbelievable experience which helped us to gradually advance and improve. In addition, taking part in the conferences has helped us polish and perfect the way we present our development and make our audience understand the technology's full potential".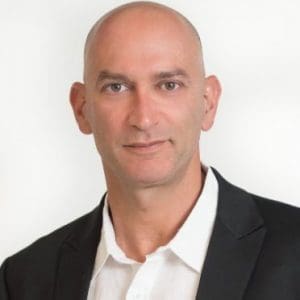 When asked what sort of advice they would give up-and-coming developers, they had a surprising reply. "Lots of young developers think about their exit. They talk about raising funds, getting a functioning prototype and selling their idea, we don't think that's the way to go", said Naor. "Our mindset along this challenging venture has always been going about our business as a company, not as a startup. This means constantly checking what's new in your market, perfecting your development and remaining as agile and versatile as possible. It's all about the long term vision and your ability to be versatile in your mindset and trajectory path", concluded Haikin.