This post is also available in:

עברית (Hebrew)
A delegation of dozens of defense industries led by the Israeli Ministry of Defense attended one of the main security exhibitions in the world, including 7 leading startups from the Maf'at Security Innovation Center at the Ministry of Defense in cooperation with iHLS, called "INNOFENSE".
The DSEI exhibition in London is one of the largest security exhibitions in the world, dealing with advanced technological developments for the battlefield in the air, sea, and land, as well as homeland security and cyber security, to which come both major defense industries and promising up and coming startups.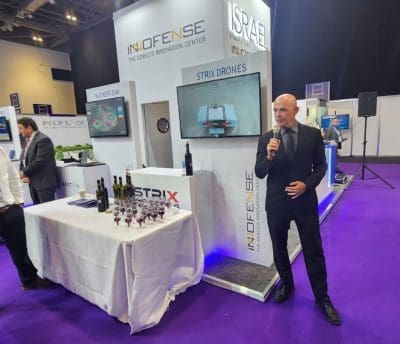 This year, as part of a policy to promote innovative technologies led by the Director General of the Ministry of Defense Eyal Zamir, startups who graduated from the Maf'at Innovation Center 'INNOFENSE' will be presenting alongside the security companies in the Israeli National Pavilion. The startups will present innovations in various technological fields including AI, energy, autonomy, fintech, communication, sustainability, etc., according to a statement by the Ministry of Defense.
According to the Maf'at startup report, Maf'at is collaborating with 3 dual venture capital funds that have invested tens of millions of dollars in dual startup companies and has opened a startup security innovation center with iHLS called INNOFENSE, which completed its 3rd cycle of activity in the past month and is currently beginning its fourth cycle.
INNOFENSE is Maf'at's Innovation Center, which aims to address security challenges of the defense sector in order to receive responses from dual (both civilian and security) startups. After receiving the responses, the relevant companies are selected and begin the work, at the end of which proof of feasibility is performed to solve the security challenge using technological means. As part of the program, the companies receive close professional guidance from operational elements in the Ministry of Defense and the IDF, as well as business mentorship and guidance.
42 startup companies who graduated from the INNOFENSE program have solved operational problems with technological means and high success rates, and many of them have even continued R&D cooperation with Maf'at.
These are the graduates of the program led by iHLS and the Ministry of Defense who are participating in the exhibition:
DeepKeep – Provides an end-to-end solution for trustworthy and protected AI. As ML systems can be easily attacked, DeepKeep addresses the top barriers to AI adoption. The solution provides AI protection & firewall: detection, protection, testing, and analysis; Explainable AI for security, safety, transparency, and trustworthy AI; Seamless integration along the entire AI lifecycle; Sandbox environment with an extensive set of automatic tools.
Strix Drones – the first company in the world to present multifunctional ground docking stations and software compatible with any drone. Deployed similarly to gas stations for cars; the ground stations enable any drone about to run out of power to land, recharge, and continue its mission.
Alumor – Alumor's water purifier sterilizes natural water (from a well, stream, or spring) from microbiological infections, making it safe to drink without fear of disease. The filter is electrically powered by a small solar panel and/or battery of only a few watts, disinfecting 2 liters per minute without the need for regular maintenance and at a low price. The purification upholds the American NSF/ANSI for disinfecting the most stringent waters and eliminates dangerous parasites, viruses, bacteria, coliform, and protozoa.
Next-Dim3 – helps unveil and explain invaluable information using automatic discovery algorithms to surface insights and explain irregular patterns from large networks, focusing on anti-financial crime and anti-social network manipulation use-cases. The platform is based on the transition from a transaction-based paradigm to a more comprehensive, network-based one. It enables one to view the whole picture including significant notions such as the source, chronology, and velocity of activity. Next-Dim also automatically reveals hidden structures and anomalies.
Convex – The Army's ground units needed to create a rapid-deployment blocking element for openings of various types and sizes. The existing solutions were problematic in various ways, so Convex Design Engineering Ltd. has been called to provide an alternative solution and invent a lightweight, small-scale solution that combines good performance with low price and ease of operation, maintenance, and storage. Convex specializes in designing, manufacturing, and providing professional solutions to a variety of technological and mechanical challenges, while ensuring high quality, user interface, as low a price as possible, TTM, and, of course, aesthetics.
iHLS and the Ministry of Defense invite you to join INNOFENSE– a remarkable opportunity to showcase your technology solutions and demonstrate your ability to face the complex and urgent challenges the state of Israel goes up against every day.
For more information contact us