This post is also available in:

עברית (Hebrew)
An Israeli technological breakthrough has been achieved in the development of lasers for the interception of RAM threats, UAVs, and ATGMs. The new technology unveiled by the Directorate of Defense Research and Development (DDR&D), at the Israel Ministry of Defense will prompt a strategic change in Israel's air defense capability, according to the statement.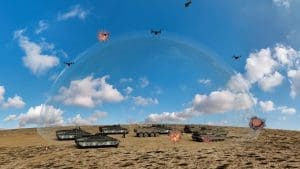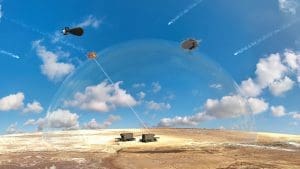 The technological breakthrough is based on laser beam accuracy. Thanks to the new technology, the defense system succeeded in focusing and stabilizing the beam on a target at long ranges, including solving the problem of  disturbances in the atmosphere. 
The technology enables the development of effective interception systems with high operational efficiency that would constitute an additional layer in Israel's defense in the air, land and sea.
As a result of the aforementioned technological breakthrough, the DDR&D has launched three programs for the development of high-energy laser demo systems in cooperation with defense industries, Rafael and Elbit Systems:
Development of a demo ground-based laser system to

complement the capabilities of the Iron Dome (an additional layer to the air defense array)
Development of a maneuver platform-mounted laser system to

defend troops in the field
Development of a laser demo system mounted on an air

platform to intercept threats above cloud covers and for the defense of wide areas
Among the advantages of the high-energy lasers are the ability to continually use the system at lower cost, higher effectiveness and with efficient management thanks to the use of two different albeit complementing technologies – kinetic air defense (e.g. Iron Dome) and laser. They will also allow for a decrease in the number of missile interceptors used and the future potential to intercept a variety of threats, including unmanned aerial vehicles, drones and guided rockets.
Head of the Directorate of Research and Development in the DDR&D, Brig. Gen. Yaniv Rotem: "We are entering a new age of energy warfare in the air, land and sea. The R&D investments made by the DDR&D in the last years have placed the State of Israel among the leading countries in the field of high-energy laser systems. Throughout the year 2020 we will conduct a demo of our capabilities."
According to the announcement, for years the DDR&D made efforts to advance a powerful laser technology. Many developments in Israel and the world were tested and found inefficient. Recently, major advancement has been achieved following the cooperation between DDR&D and the defense industries (Rafael and Elbit Systems) and academic partners. These achievements are based on the development of an electric laser, to differ from the chemical laser in use until now.
Photos: Ministry of Defense Spokesperson