This post is also available in:

עברית (Hebrew)
H.B.A. System Integrators, an Israeli homeland security company with over 30 years of experience in thefields of anti-terror, border checkpoint technology, robotics, and perimeter defense, are providing the newest robotic member for fleets of EOD (Explosive Ordnance Disposal) robots, the Andros FX, manufactured by Remotec of Northrop Grumman.
The Andros FX fully leverages H.B.A.'s 30 years of experience with managing and integrating autonomous and unmanned robotic systems for land based and underwater operations. With a diversified fleet of unmanned EOD robots and years of experience working alongside the most experienced bomb disposal experts in the Israeli Defense Force and Israeli law enforcement, H.B.A. has established the EOD fleet of law enforcement bomb disposal departments, while also providing complete turnkey solutions for worldwide customers. H.B.A. truly aims, and succeeds, at minimizing human exposure to explosives and other harmful materials, all while providing first responders with the most advanced and accurate tools to dispose of such dangerous materials.
The heavy duty Andros FX has been built from the ground up to supply the system's operator with the most versatile and user friendly experience possible . Weighing in at 383 kilograms, the EOD robot utilizes an advanced combination of ruggedness, mobility, and high dexterity in order to defeat the most complex threats. Andros FX's ruggedness and large amount of operational tools and payload capabilities expands the operator's ability to complete a wide range of missions with more confidence and in less time.
The system can be controlled manually by an operator and it could also have a preset route and set of tasks uploaded for automatic operation. Andros FX's control system displays 3D images of the robot to help the operator visualize the robot's settings and payloads. Furthermore, the robot's maintenance information is also displayed via touch screen graphics to help the operator gain the best understanding of the robot's condition.
With a quad track mobility system, the Andros FX is capable of maneuvering to and through pretty much any type of terrain. Each track has its own motor and can be controlled independently from the other tracks in order to increase the operator's flexibility to control the robot. This allows the EOD robot to go up and down stairs, overcome the toughest obstacles, and cross rough terrains. Furthermore, the tracks could re-angle themselves in order to give the Andros FX another 14 inches in height for increased reach and observation capabilities.
Yet, an effective EOD robot needs more than just advanced mobility, the Andros FX utilizes a long, strong, and smart manipulator for its operations. Similar to the robot's track system, Andros FX's manipulator can also be controlled joint by joint for flexible and accurate maneuvers. The manipulator allows the robot to carry up to 61 kilograms when the arm is fully extended. The robot is capable of carrying even more weight, up to 124 kilograms, when the arm is only partially extended. Andros FX's manipulator grant the robot a vertical reach of 3.2 meters, when the arm is fully extended and the robot is "standing" on its tracks.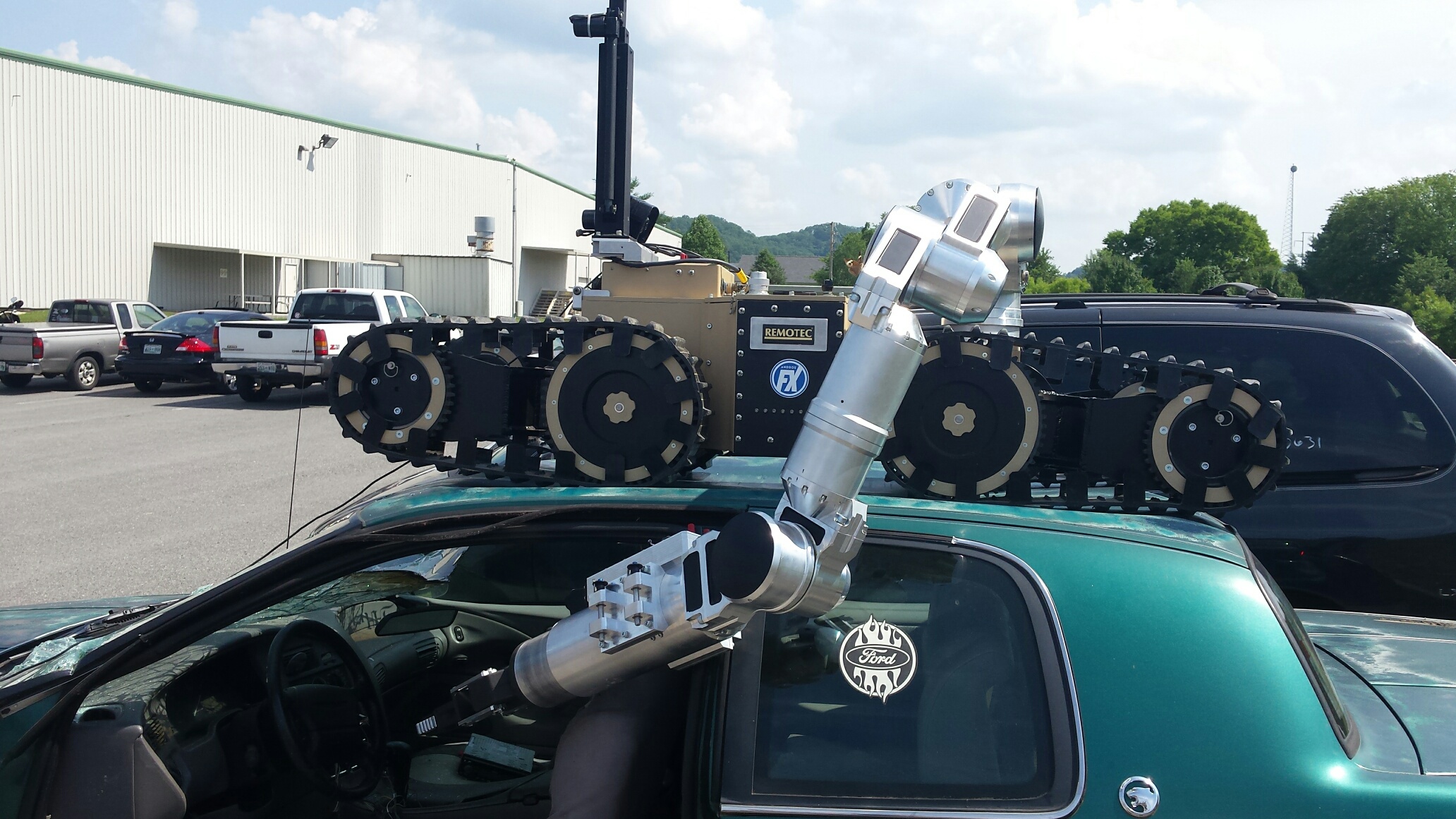 At the end of the robot's manipulator is its gripper. The gripper is capable of extending an extra 6 inches for fine and accurate movement. The gripper also comes equipped with an IR sensor, lights, and camera installed in its "palm" for maximum precision.
The Andros FX is also compatible with a second manipulator for extreme precision. Based on the Jaco robotic arm, which is used to assist people with upper-body disabilities, the second manipulator is for more "surgical" operations that require fine and precise movements and has already been provided to US bomb disposal departments. 
"The focus is precision," said Manuel Bar-Gil, a senior manager at H.B.A. to iHLS. "[Andros FX] provides a solution that could substitute the tools and precision that you would find in an operating room or a dentist's office."
Ideal for vehicle-borne IED (Improvised Explosive Device) disposal, the Andros FX's design supplies a solution for a wide array of threats stretching much farther than EOD missions. Any threat involving carrying, cutting, drilling, precise movements, and even negotiation can be neutralized by H.B.A.'s newest robot integrations , since the robot also comes equipped with a two-way speaker/microphone system.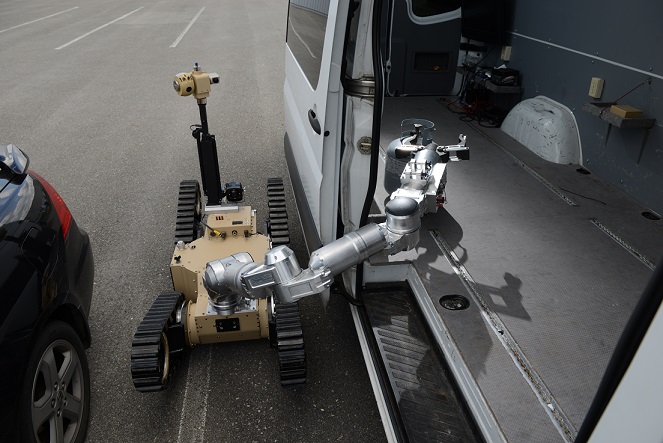 "Using the knowledge and expertise obtained from bomb disposal experts, we have developed a set of tools that supply an end solution for the bomb disposal expert in the field," said Bar-Gil.
The system comes equipped with a set of cameras and sensors in order to ensure maximum situational awareness. A weapon's camera and laser sighting system can also be attached to the system for additional targeting assistance.
With several units already expected to be delivered to the IDF in the beginning of 2020, H.B.A. System Integrators are the only suppliers of the Israeli police and military forces that work alongside U.S. federal agencies, such as the Department of Homeland Security. This does not come as much of a surprise considering the company's record and experience with innovation and technologies in the defense and homeland security sectors.