This post is also available in:

עברית (Hebrew)
By Arie Egozi
The problem is universal and some countries are now confronted by it in a growing pace and severity.
An exclusive economic zone (EEZ) is a sea zone prescribed by the United Nations Convention on the Law of the Sea over which a state has special rights regarding the exploration and use of marine resources, including energy production from water and wind. It stretches from the baseline out to 200 nautical miles (nmi) from its coast.
To protect the natural resources in the EEZ, countries need almost constant presence in the open seas.
One new advanced system that can fulfill the mission is an unmanned surface vehicle (USV).
In recent years, Israel has discovered huge reservoirs of natural gas in the Mediterranean and these are threatened by various enemies, including the Hezbollah terror organization in Lebanon.
This threat accelerated the development of advanced USVs by some Israeli defense industries.
Rafael was the first to develop such a system. The company's Protector USV is operational and last year, it proved its capability to launch missiles. During the test, Rafael fired a number of Spike ER missiles, a member of a family of precise, electro-optical missiles that can be launched from aerial, land and naval platforms.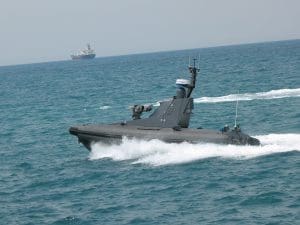 According to Rafael, this new capability allows a pinpoint attack of land or naval targets, enabling safe vessel operation from a remote-controlled vessel with no risk to the operating force, from a remote command and control room or from aboard other naval platforms.
The Protector USV has been in use since 2004, allowing its developers and engineers to accumulate vast experience to continue its spiral development.
Rafael has recently supplied a significant number of Protector USVs to a number of fleets and civilian bodies around the world, in accordance with the growing need for a remotely-operated vessel with modular payload carrying capabilities, based on mission requirements.
The recent test brings to an end the operational integration process of the Protector's entire suite of mission components, including a stabilized weapon station the mini-Typhoon, a water cannon, non-lethal means, EW systems for the protection and escort of naval vessels, MCM, electro-optical long-range detection and tracking systems, and now the Rafael's Spike missiles, all remotely-operated.
Rafael does not release data on clients, but a company source mentioned as an example the situation in Bab al-Mandab strait that separates the Arabian Peninsula from east Africa and links the Red Sea with the Gulf of Aden and the Indian Ocean. "The Houthi rebels in Yemen control the strait and have caused heavy damage to navy and civil ships mainly be launching missiles and rockets," an Israeli source said.
Intelligence sources say that the Houthis have been building capabilities to perform "Swarm Attacks" using a number of high speed boats.
Rafael, according to its official, has reached the conclusion that all the existing defense methods against such attacks are not effective. "We decided to use an unmanned vessel as the platform for such a protection system. The Protector was designed from the start as an unmanned platform and therefore is the ideal platform for such a mission"
To equip an unmanned boat with advanced missiles, the Israeli company had to prove that the maritime platform is a solid basis for using the missiles at sea under different, sometimes harsh conditions. "The Protector can launch missiles in sea condition 3." In these conditions the waves are 0.5 to 1.5 meters high.
According to the Israeli company, the Protector has proved itself so far mainly in performing Intelligence, Surveillance, Target Acquisition and Reconnaissance (ISTAR) missions.  
It is fitted with a comprehensive sensor suite and can accommodate a variety of mission modules. One very important module is the Rafael's Toplite Electro-optical system.
The Mini-Typhoon, part of the basic configuration of the Protector, is a stabilized gun mount that is highly accurate and includes fire control capabilities, yielding excellent shooting accuracy. 
The Water Cannon system provides less-lethal engagement at close range as well as firefighting capabilities. Protector is operated from a Control Station. The Control Station includes two control consoles, one for the USV commander and one for the Payload Systems operator. The Control Station receives, via communications links, all the system data, video imagery and audio required to effectively build a situational awareness picture and operate the system. The system can be easily incorporated in a wider defense array via a standard interface to an external C4I system.
The Protector, according to Rafael, has excellent maneuvering capabilities. The platform has water jet propulsion systems powered by diesel engines. The platform systems include control over propulsion, maneuvering, and navigation.
Elbit systems, another Israeli major defense company, has developed the Seagull USV.
This is a 12-meter long USV that can be operated from a mother-ship or from shore stations. It provides multi-mission capabilities including Anti-Submarine Warfare (ASW), Mine Counter Measures (MCM), Electronic Warfare (EW), maritime security and underwater commercial missions.
And Israel aerospace industries (IAI) has also joined the trend and developed the KATANA USV that supports a wide range of applications for HLS and protection of exclusive economic zones, including harbor security, patrol of shallow coastal and territorial waters, surface warfare and offshore platform protection (including oil rigs, pipelines, and harbors).
IAI says that the KATANA is compatible with IAI's various systems and supports a totally integrated solution. This includes unmanned capabilities which provide a response for the entire range of naval applications and which are able to revolutionize maritime operations.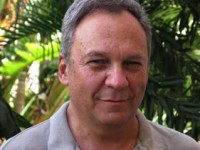 Arie Egozi, iHLS Editor-in-Chief