This post is also available in:

עברית (Hebrew)
An innovative, ground-breaking vehicle with an electric-powered mobility platform has created a new category in all-terrain riding. This pioneering electric mobility solution developed by the Israeli company DSRaider allows the user complete control with minimum training.
The EZRaider vehicle is a small, quiet and easy to operate solution, and at the same time  an all-terrain 4X4 vehicle capable of going through rocky terrains, sand dunes, water, forested areas, snow, deep mud, etc. It is offered for a wide range of uses in the security sector – HLS, rescue forces, military operations, heavy duty uses, paramilitary, and first responders. This first-of-its-kind vehicle is also designed for the civilian sector, and is used by hunters, farmers, ATV and extreme sports fans, tourists, etc. The company has customers all over the world, including the US, New Zealand, Spain, Russia, the Czech Republic, and more.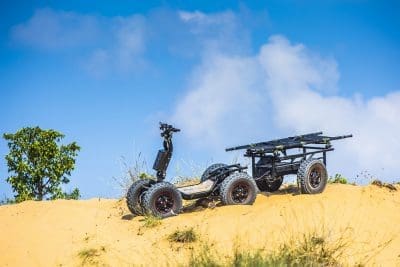 Miki Bar, the company's CEO, is a former Brig. Gen. in the Israeli Air Force, with 27 years of military experience. A decorated pilot, Bar had served as VP of Israel Aerospace Industries and the CEO of Military Division.
As he told iHLS, the EZRaider vehicle offers a unique solution for personal mobility for heavy-load missions, suitable for usage in the security and paramilitary sectors. He stressed that the vehicle is capable of coping with harsh and complex terrains.
This innovative vehicle was first developed by the company's entrepreneurs as a solution that addresses military and security needs. They wanted to design a vehicle with low noise signature, that would be simple to drive, and relieve soldiers from having to carry too much weight on their backs. During the development they identified also the great potential of their vehicle in the civilian market. Eventually, the company created a new niche in electric mobility, with its EZRaider vehicle whose off-road performance is better than any current electric vehicle.
The EZRaider is a small 4-wheel ATV powered by an electric motor. Its basic structure includes a central standing platform and a handlebar steering component. The vehicle's narrow structure (66-72 cm) and lightweight (90-135 kg) allow it to move through harsh terrains. It can function in extreme conditions and temperatures.
The vehicle's stability is attained through its low center of gravity and a unique patent-protected mechanism. The vehicle's "terrain surfing" movement derives from its constant traction with the ground.
The EZRaider can carry up to two people in a seated or standing position. It can be fitted with a cart that can carry equipment, transport goods, extend travel range, evacuate injured persons, etc.
The vehicle combines powerful, go-anywhere mobility in a variety of off-road scenarios, offering operational simplicity, and high reliability and durability – while ensuring the highest level of user safety.
The company offers several models of the EZRaider for various uses. One of the outstanding models is the EZRaider HD4, a heavy-duty 4×4 version with an impressive ability to carry heavy weights even in extreme conditions, such as deep sand and rocky terrain. The driving range of this vehicle is the reaches 80 km on one charge.
The HD4 weighs only 135 kg. It includes a 60V/3000W-hr battery and four powerful hub motors of 1200W each.
The vehicle models offer an intuitive riding experience and are suitable for virtually anyone, modifications can make it accessible to the physically handicapped.
DSRaider is ISO certified and ןד authorized to manufacture by the Israel Department of Transportation.
As CEO Miki Bar concludes, the core of the company's power is its constant strive for the development of cutting-edge technologies; the company's vision is to maintain its leadership in electric vehicle personal mobility, a new category created by DSRaider.