This post is also available in:

עברית (Hebrew)
Transporting soldiers and equipment through rough terrains requires tactical solutions that could navigate in terrain previously only reached by foot.
DSraider has developed a revolutionary personal tactical vehicle for armed forces. The Raider, an off-road electric-powered manned vehicle, creates a new category in the field of personal tactical vehicle. The vehicle has a unique go-anywhere mobility character and thus acts as an operational power-multiplier of the user.
According to the company, the Raider's operation simplicity, high reliability and durability enhance operative advantages in a variety of operational scenarios with a high level of safety for the user.
The Raider can carry onboard up to two users/fighters with full combat gear. It can carry a special cart for additional equipment.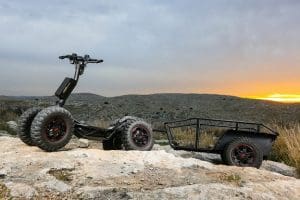 The vehicle is powered by electric motors with high torque and precise response to user commands. It can reach a range of up to 75 km using the electric engine and hundreds of miles using the hybrid option. The maximum programmable speed is 50 km/h.
According to the Israeli company, the Raider can be easily folded for transportation. The vehicle's width is 70 cm and it weighs 95 kg. It is equipped with an Intuitive and accurate driving system control and allows a Combo drive 2×4 /4×4.
The Raider alone can carry a payload up to 170 kg, and an additional 250 kg while equipped with Raider electric powered cart. This cart is equipped with an electric motor to assist in carrying the cargo.
In a first and exclusive interview, Brig.Gen. (res.) Miki Bar, DSraider CEO, said the system was developed to answer an operational demand in the military and civil markets. "The interest in the two versions has proved that there is a large potential market."
According to Dror Dotan, the company's Marketing & Sales Manager, the two versions are already used by military and civil customers.  The military version is dubbed DSraider while the civil one is dubbed EZraider. "Among the civil customers are first responders and rescue teams."