This post is also available in:

עברית (Hebrew)
Autonomous vehicles can replace human teams in dangerous missions or in places where accessibility is restricted, such as in search and rescue missions during and in the aftermath of disasters. A fleet of autonomous vehicles is already a game-changer at any arena.
Blue White Robotics (BWR) offers autonomy NOW, providing a "Robots-as-a-Service" platform – a complete solution for the efficient and agile large-scale application of autonomous technologies. 
The innovative software platform developed by BWR enables the planning and operation of several missions simultaneously and at the same place through a ground or aerial fleet of autonomous vehicles, promising efficiency and security.
Based on advanced remote sensing and AI developments, the platform enables the seamless and secure application of autonomous technologies.
BWR was founded in 2017 by ex-IAF pilots and engineers, with over 20 years of operations experience in autonomous and unmanned technologies. The company focuses on autonomous solutions for the HLS, smart mobility, and agriculture applications, with operations around the world.
The company's autonomous solutions lead the operations of first responder teams during emergencies, support the autonomous farm, allowing one operator to manage a fleet of autonomous air & ground vehicles, seamlessly and safely. Its autonomous shuttle operation solutions solve for affordable and reliable transportation around large campuses and smart city settings.
Meet Soteria 
First responders' missions are demanding and risky, and life-saving operations require reliable real-time solutions.
BWR has recently launched Soteria – a ground-breaking system designed for the operation planning, command and control of multiple drones of different types at the same perimeter for a wide range of missions, both routine and during emergency. The system interfaces seamlessly with command and control centers or urban / municipal service centers. The command and control system with open architecture provides full visibility for more efficient and complete management.
Soteria provides first responders with real-time situational awareness from a remote management center. Integrated into existing assets' Soteria gives mission management team full visibility.
A unique drone in a box solution by Easy Aerial provides both tethered or free flight configuration for 24/7 operation in urban areas. The solution is easily mobilized on regular pick-up trucks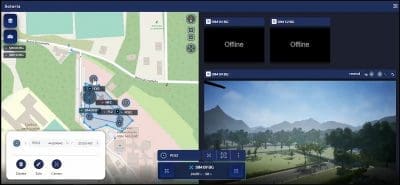 The system has been already operated during emergency incidents in Israel, including the identification and management of search and rescue activities in an inaccessible building hit by a rocket during the Guardian of Walls Operation, operations during wildfire incidents, and more – working closely with security and first responder teams, as well as local authorities.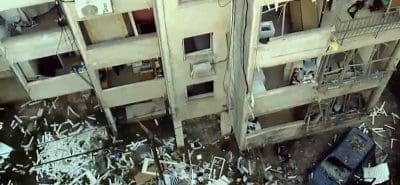 The innovative solution was developed in collaboration with US company Easy Aerial and granted funding by the BIRD Israel-US Binational Industrial Research and Development Foundation Foundation.
Last June, Soteria's unique capabilities were showcased by BWR during a live demonstration at the AUS&R 2021 Unmanned Systems and Robotics Conference and Exhibition organized by iHLS.
Undoubtedly, Soteria multi-drone command and management system opens up a range of new operational and command horizons for security and responder teams coping with every incident and disaster scene.