This post is also available in:

עברית (Hebrew)
While on routine, this is a life-saving service, during the current Coronavirus crisis this MDA community ambulances project has a much higher significance.
The Levi Project – the community ambulance fleet of MDA (Israel's national emergency medical, disaster, ambulance, and blood bank service) is a nation-wide, urban system encompassing dozens of MDA community ambulances. They are operated 24/7 by volunteers who are driving them everywhere, waiting to be dispatched to any call – emergency resuscitation, woman giving birth, treating injured, etc. This ambulance fleet operated by MDA volunteering paramedics and medical assistants is designated to provide first response to emergency calls in the neighborhoods and settlements where they are located. The ambulances are equipped in accordance with MDA standards, with advanced medical equipment which includes resuscitation equipment and a defibrillator, constituting an enhancement to the MDA array of ambulances and mobile units deployed around the country.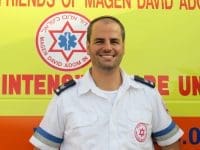 In a special interview to iHLS, MDA senior medical assistant Dovale Shachor, the Ayalon District array coordinator, said: "Volunteers from all population groups – students, pensioners, ultra-orthodox, non-religious, Arabs, and more – dedicate part of their working and family time supplying constant availability and 3-minute response time.
The MDA's community ambulance fleet includes 50 ambulances, of which 20 operate in the cities and settlements of the Ayalon District, supplying a response to over 1,000 emergency calls per month at routine. The volunteers receive instruction from the MDA as driver-medical assistants or as paramedics.
He added: "Currently, this community service does not only enhance the regular ambulance fleet which serves, among others, patients in quarantine at home due to the Coronavirus but is also outfitted with protection equipment in order to treat these patients."
The MDA is currently leading a crowdfunding campaign aimed at purchasing equipment for all the on-call personnel in Israel, including the unique community ambulances volunteer project.  Donate