This post is also available in:

עברית (Hebrew)
A new operational connectivity system has been chosen by the IDF. Essentially creating an 'operational internet' at the battlefield, the FIRE WEAVER is a networked sensor-to-shooter system that will serve the IDF's ground forces divisions, and become operational in the coming year. 
The system connects all battle participants to enable closing rapid, precise, effective and secure sensor-to-shooter loops. As a result, the system considerably maximizes the operational performance and decreases the battle duration, according to the company's announcement.  
Acquired by the Israeli Ministry of Defense (IMOD), the system was developed jointly by the IDF's ground forces, DDR&D (The IMOD's Directorate of Defense Research and Development) and RAFAEL, as part of the IDF's battlefield digitization process.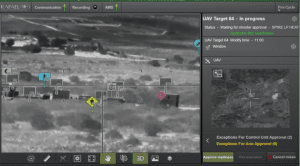 FIRE WEAVER provides the tactical forces with a GPS-independent geo-pixel-based tactical common language among all the sensors and shooters which grants optimal situational awareness and improved understanding of the battlefield. 
Targets, blue forces, sensitive locations and other points of interest, are shared immediately and accurately and are augmented on the system sights, based on 3D models using RAFAEL's advanced computer vision technology. This enables fighters to perceive the precise location of the enemy from any vantage point and any distance regardless of their own position. 
The platform utilizes RAFAEL's artificial intelligence algorithms, processes the battle data, analyzes it, and prioritizes fire allocation. The system calculates the optimal shooter for each target, based on parameters such as location, line-of-sight, effectiveness, current ammo status etc., while minimizing collateral damage and fratricide, taking into consideration the rules of engagement in real time.
The system includes a Fire Management Terminal application, which provides the commander with full control of the entire process, including cases of multiple sensor-to-shooter loops in parallel. 
Brig. Gen. (Ret.) Shmuel Olanski, head of RAFAEL's Land Innovation Center said that the system will help the IDF in its efforts to prepare for the challenges of the multidimensional battlefield.