This post is also available in:

עברית (Hebrew)
A series of robotic platforms and driven mobility systems has been revolutionizing the extreme mobility field for all weather conditions all-terrain and water. The robots are based on futuristic, ground-breaking and innovative technology, have been designed for tactical missions and operational activities.
The company behind the vast array of these innovative robotic vehicles is Gahat Robotics, a division of Gahat Systems, which specializes in advanced technological solutions for the security, strategic, and tactical realms.
Gahat Robotics' robotic platforms will be showcased at the coming AUS&R 2019 conference and exhibition for unmanned systems and robotics, organized by iHLS. One of the vehicles – an amphibious vehicle with floating and sailing capabilities – will take part in the fascinating live demonstration during the event.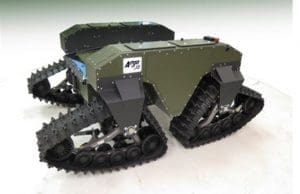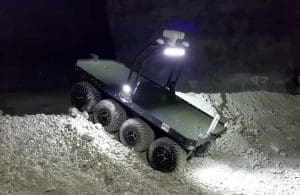 The company's robotic systems include the Runner – a 4-wheel traction robot which weighs 375 kg and has a load capacity of about 450 kg, and the 8-wheel traction robot which completes the action of the 4-wheel version by carrying the heavyweights and dragging them to their destination.  
Gahat Robotics' robotic platforms excel in their extraordinary mobility at challenging weather and terrain conditions, they are fully amphibious, requiring high levels of navigability. Thanks to the robot's small dimensions, it is capable of performing complex missions, in urban environments, pass through narrow spaces, burrows and tunnels, and sail in the water as a dedicate vehicle without any special additions. These vehicles can be used in floods, natural disasters, search and rescue missions, etc.
The robots can be used as carriers, equipped with station weapons, observation and intelligence systems, various custom-made sensors, high-resolution video systems forward and backward, and many other options that make the vehicles highly versatile.
The robots are equipped with a follow-me capability that enables to follow the "leader," as well as GPS navigation, and more.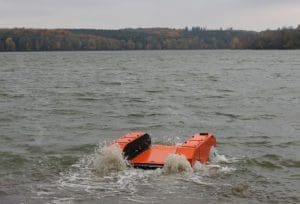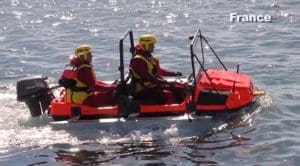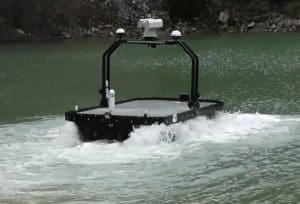 The robot is operated by advanced command and control systems, as a semi-autonomous mobility system that can be pre-programmed to perform certain actions or chose operation routes by its own. 
The robot is capable and made for towing and carrying heavy loads.
Similarly to the robotic platform, the driven mobility platform is also capable of advancing in various challenging terrain conditions, rocky terrain, urban environment, passing through narrow spaces, tunnels, water obstacles, snow and mud, and can carry equipment and people on the ground and in the water. The robots can easily rotate 360 degrees without moving forward. They have floating and sailing capabilities, and the installation of an external motor can turn the vehicle into a rapid sea craft in freshwater and seawater. The vehicles are highly reliable, simple for operation and maintenance, and can be transferred by aircraft or helicopter.