This post is also available in:

עברית (Hebrew)
Following three years of development and tests, the Israeli Defense Ministry unveiled three new prototypes for the Carmel advanced armored fighting vehicle (AFV), which officers say will revolutionize the battlefield and constitute a quantum leap in the field of armored vehicles.
The Carmel is under development by the Defense Ministry's Administration for the Development of Weapons and Technological Infrastructure (MAFAT) and its Merkava Tank Administration. While MAFAT expects the development and demonstration testing of the Carmel to extend over the coming decade or more, the platform prototypes shown to reporters on August 4 included one from Rafael, one from IAI and one from Elbit – Israel's three major defense companies.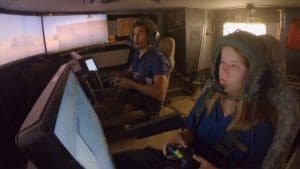 Meir Shabtai, general manager of robotics and autonomous systems at IAI, told jpost.,com that the Carmel is "the next generation of combat vehicles" that can maneuver by itself and can detect and engage targets at long distances.
The Carmel is expected to be at the forefront of the military's new combat concept, which is based on autonomous and automatic maneuvering capabilities, artificial intelligence, hybrid propulsion and more. Artificial intelligence capabilities will enable full situational awareness and fast responses to enemy threats while drastically reducing the workload of the crew.
With numerous sensors and day/night cameras, various radars and SIGINT sensors, the Carmel allows the crew to order autonomous actions such as searching for several enemy targets simultaneously and then prioritizing the targets and off-road driving. Operated by a two-man crew only, it is almost completely autonomous and highly invisible to enemy radar. The platform has breakthrough technologies, including modular transparent armor, next-generation cooperative active protection, an IED alert and neutralization system and a hybrid engine.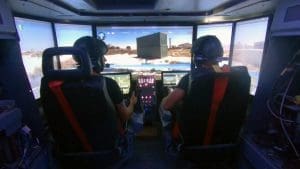 The crew will be able to receive visual information from  small and large 360-degrees touch screens in front of them. The vehicle will operate without exposing the crew, which stay inside, as reported by ynet.com. 
The crew will be able to use Elbit Systems' Iron Vision helmet-mounted display operated globally by F-35 pilots.
The 35-ton, tracked AFV is designed to be simple to operate, relatively inexpensive, agile and lethal with firepower designed for close and urban combat.
It is also fitted with tactical drones which can help with surveillance and reconnaissance as well as attack capabilities.