This post is also available in:

עברית (Hebrew)
A revolutionary solution for a remote drone operation has been developed by a startup which participates in the sixth cycle of the iHLS Security Accelerator.
SWYFT (See Where You Fly To) Aeronautical Technology, an Israeli startup, offers new and innovative flying methods which bring a revolution in drone operation.
The current professional use of drones suffers from inefficiency, low profitability, tough regulations and other difficulties. These are holding back drones' adoption that can fulfill the growing need for drone usage in civilian, homeland-security and military markets.
eyeFLIGHT, SWYFT's first product, constitutes the ultimate solution to the above constraints and limitations. eyeFLIGHT is a flight camera which enables drone flyers to fly them as if they were sitting in an imaginary cockpit on the drone.
SWYFT's team predicts that eyeFLIGHT will become a "must-have" for drone flyers and will accelerate the adoption of drone usage for flying professional missions.
eyeFLIGHT, which is patent protected, is a world first of its kind flight-camera. It is a standalone autonomous system connected to the drone in addition to its documenting camera. It transmits a video of the flight space ahead of the drone and presents it on the flyer's screen side by side with the video from the documenting camera. The flyer is thus free from searching the location of the drone in the sky, he sees all the obstacles ahead of the drone, can plan a continuous smooth and safe flight path and keep a continuous sequence of the video of the documented objects. eyeFLIGHT can be fitted onto any drone using a drone-specific connector. eyeFLIGHT is light-weight and does not affect flight time and quality.
SWYFT, a forward-looking company, is already developing its next products. One of them is a revolutionary flying method based on eyeFLIGHT, that will make drone flying as intuitive as driving a car. The company's vision encompasses applications in many fields of future operations of unmanned vehicles.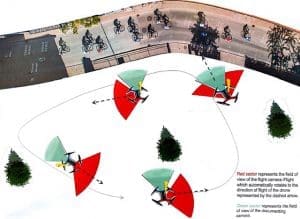 SWYFT was founded in 2016 by Joshua Margolin and his partner, Roy Ben Anat. Margolin, the CEO, is an R&D expert with vast experience in developing innovative enabling technologies. He has a proven record in worldwide business development and is the owner and founder of a scientific software company with world presence. Ben Anat, SWYFT's chief aviator, is a pioneer of drone usage in Israel, an expert flyer of drones and model airplanes and is also a licensed plane pilot. Ben Anat is an expert UAV instructor and is an experienced builder of model airplanes as well as aerobatic airplanes.