This post is also available in:

עברית (Hebrew)
Innovative technologies from the realm of the Internet of Things have attracted record interest at the IoT for Security and Smart City Conference and Exhibition held today. The intriguing conference moderated by Col. (res.) Arik Davidi and the extraordinary exhibition are organized by iHLS for the sixth year in a row, showcasing the leading disruptive innovation in the field.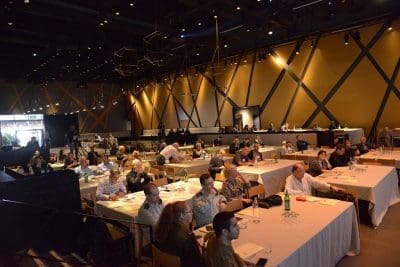 The conference was opened by the presentation of Lt. Col. Itay Sagi, Head of the Digital City Branch & SHOHAM, Computer Service Directorate and Cybersecurity, IDF. He presented the IDF requirements and solutions for the smart base applications at the digital computing city being built at Southern Israel. The digital city will include thousands of users, and everything will be managed by a sole innovative technological command and control system.
Dr. Yael Dubinsky, Co-Founder of Hubble Innovations elaborated on IoT new definition – initiating the offering of data to users.
Moshe Goldberg, Vertica Senior Engineer in Micro Focus spoke about Vertica IoT trends management.
The presentation by Ilan Migdal, CEO, Friendly Technologies, centered on the unified management of smart city devices and sensors.
Aviram Zrahia, Security Evangelist from Juniper Networks, spoke about IoT security challenges.
Danny Morim, a Software Business Manager, and Avi Wertheimer, a Cloud Architect, both from Arrow Global Services, spoke about the process leading from sensor to cloud with Microsoft Azure IoT.
The presentation by Liran Stein, VP, NowForce (a Verint company), dealt with IoT in the service of security.
Assaf Galil, Sales Manager, TenAsys Israel, referred to the ultimate way to build IoT edge computer that supports hard real time.
IoT application in 5G via smart small cell was at the center of the presentation by Raz Kivelevich-Carmi, VP Product, Airspan.
The last presentation by Gadi Talmon, CEO, Gadi Talmon Growth Management Consulting, focused on municipal applications – the IoT from the battlefield to the city center.