This post is also available in:

עברית (Hebrew)
Israel Aerospace Industries (IAI) announced today, October 24th, it has been awarded an additional, $777-million mega- contract for supply of LRSAM Air & Missile Defense systems (the marine version of the AMD system Barak 8) for seven ships of the Indian navy. The contract was entered with Indian state-owned company Bharat Electronics Limited (BEL) which serves as the main contractor in the project.
The LRSAM system, part of the Barak 8 Family, is an operational AMD system used by Israel's navy as well as by India's navy, air and land forces. It provides broad Aerial and point defense against a wide range of threats to the marine arena from the air, sea or land.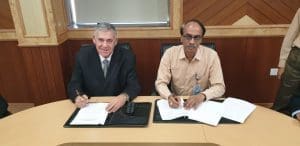 The system integrates several advanced state-of-the-art systems as, digital radar, command and control, launchers, interceptors with modern RF seekers, Data link and system-wide connectivity.
"This deal reflects the direction in which IAI is heading: business focus, profitability and growth." says Nimrod Sheffer, IAI CEO and President.
"For its part, IAI management continually refreshes its business strategy while preserving the core capability and growth engines, of which the Barak 8 is an example".
Boaz Levi, Executive Vice President and General Manager of Systems, Missiles & Space Group, said, "We thank our partners in India and BEL for their choice of IAI in a project that best reflects the close technological cooperation between Israel and India." Levy adds that "with this deal, the sales of the Barak 8 over the past few years total over $6 billion…. Barak 8 is an operational system that provides a full response to a range of threats, built to cooperate with other systems, it provides customers with operational flexibility for maximum effectiveness on the battlefield".
Barak 8 System is the product of a joint effort between IAI and the Ministry of Defense, the DRDO (India's Defence Research and Development Organization), Refael, the navies, IAI's Elta Systems and other industries in India and in Israel.