This post is also available in:

עברית (Hebrew)
From missiles, rockets and shells interception, through armored platform design, to the development and performance evaluation of munitions, and much more – all can be achieved with one generic simulation engine.
3DOR Simulations, an innovative startup specializing in operations research for military systems has recently launched its unique simulation system for project optimization. By enabling testing of products and components throughout a project's life cycle – from planning to field operation, before, during or after field testing – the system allows researchers and developers to identify and fix any bugs, design issues or errors at an early stage, taking their product development and capability refinement to the next level, while saving the costs of late-stage changes.
3DOR Simulations, which participated at the first cycle of the iHLS Startup Security Accelerator, will be among the dozens of startups which will attend the Startup Competition for Security, Defense and HLS, organized by iHLS on July 11, 2018 at the Dan Panorama Hotel, Tel-Aviv.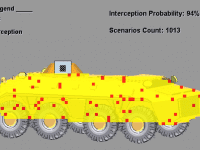 The company designed its unique 3D computational geometric modeling as part of a comprehensive solution for operations research. Its unique range of performance analysis and evaluation tools delivers system-wide simulation capabilities, integrating different research models and analysis methods.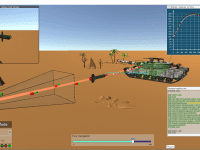 With the ability to accumulate simulations on a number of cores of a processor/multiple CPUs/cluster of computers, the system offers very fast simulation execution times, with minimal hardware requirements: it is capable of running thousands of scenarios, using multiple levels of graphical interfaces, performing visual analysis for a large number of parameters, validation of sensitivity and optimizations, in minutes, using a standard laptop.
"With nearly three decades of experience in the field, we identified a critical need for simulation tools for the operation and interaction of complex geometric models," says Amir Fishman, 3DOR Simulations' CEO. "The unique capabilities of our system enable shortened schedules, saving time and resources spent on field experiments, improving performance, lowering development costs and reducing the cost of the end-result product."
The system's unified infrastructure is suitable for development, performance analysis and experiments investigation. Being generic, simulation adjustments can be made quickly to meet the specific needs of any given project, allowing a high level of dynamic 3D performance analysis at the earliest stages.
The system can be adjusted to many defense projects and systems such as definition of optimal settings for precision-guided weapons, active defense systems, development and performance evaluation of warheads, lethal analysis of munitions and personal armor, performance analysis of armored platforms and more. The company serves both the Israeli Ministry of Defense (MoD) and defense industries.
Meet 3DOR Simulations and dozens of other ground-breaking startups at the Startup Competition for Security, Defense and HLS on July 11, 2018.
Register: Matan +972-54-8097456  [email protected]  [email protected]