This post is also available in:

עברית (Hebrew)
Israel Ministry of Defense Tank Authority has recently completed the assembly of the second demonstrator of the Eitan AFV series, after the first demonstrator had completed the testing stage.
During the next few years, the IDF will purchase hundreds of Eitan wheeled AFVs.
Many lessons from the tests of the first demonstrator were implemented in the second demonstrator, presented here at its serial configuration for the first time.
Regarding this demonstrator, a different engine will be tested as part of the check regarding alternative options suitable for operational and maintenance needs, the body of the vehicle has been improved in order to achieve maximal protection for the team and the systems.
The operational configuration of the demonstrator has been developed by the Tank Authority engineers and was constructed in cooperation with the Merkava and vehicle industries at the logistical center.
The serial vehicle's main features are: its length reaches 8 m, width – 3 m, and height – some 2.5 m. Its overall weight is about 30-35 tons. The Eitan is operated by three organic team members plus nine warriors. Its defense system is modular and includes also an active defense system. It is also equipped with an advanced nuclear biological chemical protection system and air conditioning systems.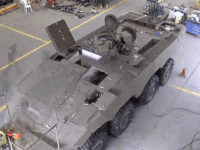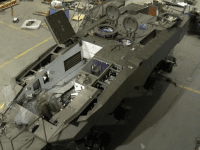 The Eitan AFV includes a wide variety of advanced weapon and command and control systems: lethal weapon systems, a small turret with a 30 mm cannon, a peripheral observation system that enables warfare with closed shelves and high-resolution touch screens that enable optimal and intuitive operation of multiple systems.
The head of Israel's Ministry of Defense Tank Authority, Brig. Gen. Guy Paglin, said that the capability of developing the next generations of the AFV and manufacturing them independently is based on the know-how accumulated in Israel, the Tank Authority and the many Israeli defense industries that take part in this mission".