This post is also available in:

עברית (Hebrew)
Israel Aerospace Industries (IAI) has recently unveiled the ELM-2138M Air Defense (AD) radar. The radar provides new surveillance capabilities and improved Artillery and Mortar (RAM) detection performance, thus enhancing force protection against a wide range of threats. Featuring four full AESA staring panels for 360 degrees azimuth coverage, and on-the-move surveillance capabilities, the radar is positioned to become a game-changer for tactical air-defense and force protection roles.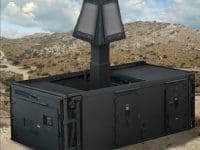 The first contract of 5 ELM-2138M AD radars was recently signed with a European customer. The radars will be integrated into the joint airspace surveillance system by the end of 2019.
The radar can be used as mobile force protection radar as well as a gap filler to complement the local or national Air Situation Picture/Recognized Air Picture (ASP/RAP), encompassing a broad range of airborne targets – such as transport aircrafts, high-speed fighters, helicopters, glide bombs or drones.
According to the company announcement, the radar can also provide RAM detection, providing real-time accurate launch and impact point information of incoming hostile fire.
As static radar with no moving parts, the radar provides a significant advantage both in the operational aspect for on-the-move defense, while reducing long-term maintenance and significantly increasing operational availability.