This post is also available in:

עברית (Hebrew)
One of the current trends in the military and law enforcement worlds is to document every action and occurrence for various purposes, including post-operations debriefing. Typically, the soldier will carry the camera on his helmet, or in his hands, and this becomes an additional accessory that joins the many others that the modern soldier carries, impeding his maneuverability.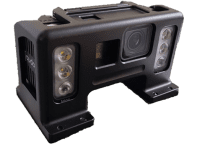 A new day/night video capturing kit for K-9 units is a new and original Israeli technology in our field, Homeland Security. NVISOL (New Vision Solutions), a leading developer and provider of Operational Documentation systems and Computing Integration for the defense market, presents, for the first time, K-Night.
The cost-effective kit uses GoPro HERO5 camcorder and Knog Qudos flashlights.
According to the company announcement, K-Night is a lightweight solution, readily available since it is based on GoPro commercial cameras. It can be carried on a K-9 or vehicle, making it one less item that the soldier needs to carry.
Providing a lighting range of up to 25 meters at night, the K-Night has an optional mount for rear and top cameras and flashlights, and can be mounted on other platforms, including vehicles. The K-Night can also run on an external energy source.