This post is also available in:

עברית (Hebrew)
Observation aerostats can supply impressive remote-controlled surveillance capabilities while keeping officers safe. The Hawk Eye observation aerostat was designed especially for stand-off, wide coverage air observation. Based on unique patented electro-optic technology, Hawk Eye provides quick access to security-related information with a very high-quality aerial optronics capability, ideal solution when rapid response is required.
Its applications include law enforcement, crime and violence prevention, traffic control and traffic law enforcement, emergency and disaster management, border patrol, coast guard, broadcast of news and sporting events, as well as tactical observation for mobile military forces.
The aerostat is one of the major products of SHILAT Optronics, an Israeli electro-optics company that offers several proprietary technologies for defense and homeland security. Its partners include the Israeli Defense Forces, foreign governmental agencies, and major defense and HLS players in Israel and abroad. The company is partially owned by RAFAEL Advanced Defense Systems Ltd.
The aerostat system can be carried by two backpacks or small vehicle and rapidly deployed by two persons. It is controlled by a standard hand-held controller and laptop computer. The system has proven capability to be operated from all kinds of vehicles at any size such as a small car, an ATV, small boats and Tripod, according to the company.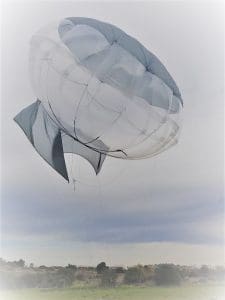 Another major development field is their special cameras and the smart integration between lasers and cameras. The Low Light Level (LLL) cameras are based on a unique CMOS image sensor that was specially designed for night vision, homeland security and surveillance applications. They provide the user with night vision capabilities that are very similar to those of conventional IIT-based NVGs, at a much lower cost, with no export regulations, and without expensive consumable parts.
The LLL cameras provide built-in recording capability and an optional integrated laser pointer. Several variants of the camera are available for different applications, including helmet-mounted NVG, weapon sight, drones, and pocket scope.