This post is also available in:

עברית (Hebrew)
Israel Aerospace Industries (IAI) has unveiled its Anti Magnetic Mine Actuating system (AMMAD MK II). AMMAD MK II provides a solution for safely neutralizing land-based magnetic mines and IED's. AMMAD MK II defeats concealed or surface laid threats by Magnetic Target Emulation and activating the charge. The system works through the generation of a magnetic field that precedes the vehicle at a stand-off range. IAI's AMMAD MK II is displayed in conjunction with other mechanical methods for safely removing threats from a vehicles' path that works on other methods of operation.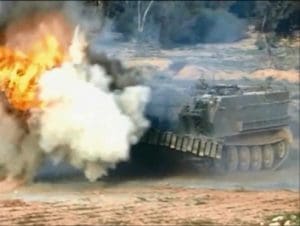 This combined systems with other mechanical threat removal means, AMMAD MK II provides a complete response to the threat of mines and other explosives used by Army's and terrorist organizations deployed as part of an asymmetric warfare tactic. Terrorist organizations took over weapon arsenals in weakened countries (such as Syria or Libya) and are currently equipped with a range of weapons, including threats of this type.
AMMAD MK II is used by various armies and can be used in conjunction with other systems that respond to mine threats and IED's such as rollers and track-width mine plows. AMMAD MK II's open architecture design allows it to be easily adapted to any kind of armored vehicle or tanks and can neutralize future threats. The system, during service use, does not disrupt the operation of the host vehicle tank.
According to the company's announcement, the unique system provides the optimal response to neutralizing electro-magnetic threats whose use by terrorist organizations is on the rise. When combined with other threat removal systems, AMMAD MK II provides comprehensive capability for addressing fixed and dropped mine threats.