This post is also available in:

עברית (Hebrew)
Israel Aerospace Industries (IAI) has successfully completed a firing trial with LORA (Long-Range Artillery weapon system) as the conclusive stage of several deals that involve the system. The experiment consisted of launching a long-range LORA missile to a pre-planned target at sea. IAI's LORA weapon system will be at focus at Paris Air Show 2017.
LORA is an artillery weapon system which consists of a long-range tactical ground-to-ground missile developed by IAI's MALAM division. It is intended for strike scenarios with a range of up to 400 km and boasts precision range of 10 meters or better.
The LORA missile weighs approx. 1,600 kg.
During the trial, the ground version of the artillery weapon system was positioned on a naval vessel far out in the sea, in compliance with safety requirements for trials of this kind. The missile was launched from an operational system that consists of a command trailer and ground launcher. Following the launch, the missile has navigated its course to the target, striking the designated target with high precision. Both the weapon system and the missile have successfully met all objectives.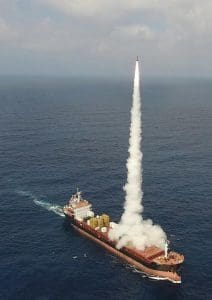 According to IAI announcement, LORA complements the range of missile systems developed by IAI to round up the fulfilment of their customers' needs. This was one of IAI's most complexed trials over the past few years and a technological breakthrough for IAI's missile development operations. The trial was held according to a full operational outline, including an assessment of the system's maneuvering, assault and precision capabilities. The impressive results attest for the system's maturity and advanced capabilities.