This post is also available in:

עברית (Hebrew)
Today, in the 21st century, violence and terror are mightier than ever.  This trend has many reasons – from refugee movement and civilian wars to rising living costs all around the world. This state, in which many people's personal security is damaged, has called upon a new tool to handle anonymous violence, the type that has nothing to do with any organization and is, therefore, hard to foresee.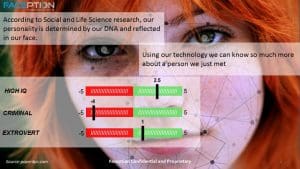 Over the last for years, Faception system has been developed for these needs exactly. Faception company, which is participating in the iHLS startup security accelerator, has developed a method to sort out personalities based on face structure alone in real time. The development, backed up by scientific research and proven results, enables security agencies higher effectiveness in finding anonymous individuals with malicious intentions.
"We've developed a system that can, using complex algorithms and big data analysis, identify a human's character based on his face structure with a high percent success rate," explained the company's CEO, Shai Gilboa. The development is unique also in the sense that it can point out possible threats, based on a person's character. In quite a simple manner – calculating the person's location and his character enables to estimate with a high probability the existence of a threat.
The system is integrated within ordinary security cameras and can also be placed at the entrance to large events, border security posts at airports, police stations etc. The camera analyzes the person's face within mili-seconds and passes the analysis to the security organization. After this process, the data referring to this individual is erased. The company works with government organizations and is therefore committed to strict privacy regulation and ethics.
Due to the power the company might potentially hold, concerns could rise pointing at possible outcomes of using the data gathered using the systems analysis. Gilboa said on the matter: "First of all, we're committed to regulation by countries we work with, besides the fact that we regulate ourselves. The analysis is carried out anonymously and objectively, we also never store data gathered on individuals. We work as service providers in the same way blood test service providers do. In addition, the personal information gathering market is overflowed by players such as Facebook or Google, so that there's no financial sense in getting into that realm".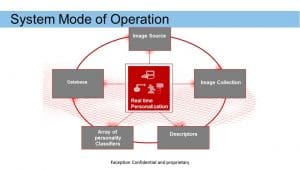 The company also stresses that their domain is brand new and the options of utilizing the information in useful applications for society are endless. Gilboa added: "We're focusing right now on public security while working with security agencies, we want to lead this personality analysis domain and be an example for companies that will develop technologies in this field in the future". Faception works with foreign governments around the world as well as integrators and technology companies.
Other applications for the technology in the future, according to Gilboa, include Artificial Intelligence. This means personal communication and better coordination between machines and humans. Once a robot understands from a human what his character is like, he can optimize the method in which to refer to him. Other applications include fintech, communication between a human driver and an autonomous one, spotting suitable employees in manpower companies and fitting relevant commercial content to customers.
Gilboa concluded: "It's a very wide realm, if we continue improving and developing as we've done over the last years, this might be quite a revolution".
Faception has been picked as one of the world's top startups in the Pioneers festival which will be held in Vienna on the 1-2.6.17.