This post is also available in:

עברית (Hebrew)
Providing certainty in unknown environments and protecting the lives of combat troops and law enforcement personnel in the most challenging combat scenarios – this mission has been successfully fulfilled by Roboteam, a leading global provider of tactical ground robotic systems.
The company, based in Israel (Petah Tikva), offers a portfolio of battle-proven systems that have been deployed in more than 25 countries. Its largest robot model, the ROOK, is currently being launched internationally.
Roboteam designs, develops and manufactures cutting-edge, multi-purpose unmanned ground platforms (UGVs) and controllers for defense, law enforcement and public safety missions. Among its customers are the military forces of the US, Israel and many other countries, law enforcement and HLS organizations, special operation units, secret services, and more.
The company's skilled engineering team is highly experienced in combat operation and the development of ground robotic systems. 
Robotics One-Stop-Shop
The wide range of robotic platforms offered by Roboteam makes it a one-stop-shop for robotics. In fact, it is the only tactical robotic platform designer and manufacturer that offers such a wide spec of tactical robotic platforms, ranging from 2 kg to 1 ton. Most of Roboteam's competitors focus on specific product segments. 
Roboteam's product family includes five tactical platforms: The compact IRIS throwable robot weighing only 2 kg is designed for intelligence gathering. MTGR is a small portable robot for engineering and EOD units as well as for infantry combatants in ground and underground operations. TIGR is an 80 kg robot that is also designed for EOD missions as well as for executing more complex missions such as the integration of CBRN detection sensors and lightweight weapon systems. The PROBOT and the new ROOK are multi-mission robotic systems capable of carrying heavy loads as well as payloads and various systems weighing 700-1200 kg (in addition to the robot's weight).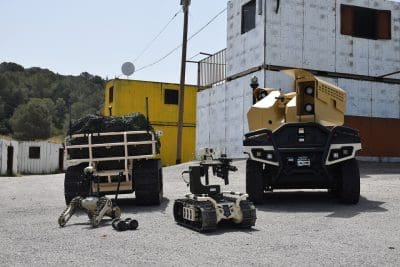 The robotic systems are controlled by ROCU-7 – a compact control unit that is friendly and intuitive to operate. It remotely controls all of Roboteam's robotic systems. ROCU-7 enables the control of all the platforms separately through a single controller and can receive data from all the robots in the fleet. The lightweight portable ROCU-7 is simple to carry as part of the personal combat equipment of any soldier or operator, in contrast to the cumbersome control units in suitcases or the huge vehicle-mounted screens currently prevalent in the market. 
Meet the ROOK 
The ROOK development has been based on advanced technologies and the operational experience of thousands of operation hours of the company's systems accumulated by its customers in a wide range of fields and operational missions. The ROOK can carry 1.2 tons, it is based on open architecture for system interface and excels in exceptional all-terrain
maneuverability. These virtues make ROOK the ideal robotic system for various operational missions, including reconnaissance and observation, target detection and identification, target destruction, operational logistics, and medical evacuation. 
The ROOK offers a quiet-mode operation with constant endurance reaching dozens of hours (electric operation) and a hybrid mode for more than 120 hours. ROOK can be remotely operated by a single operator or in an autonomous work configuration.  
Fully-Synchronized Product Family
The open architecture enables the connectivity and simple plug-and-play interface of all the products in Roboteam's robot family with the subsystems through connectors and an IOP protocol (US standard protocol).
All platforms conform to four major concepts of operation (CONOPS): 
EOD, CBRN, remote sensing

Logistics and MEDEVAC

ISRT

Lethality – interface with weapon systems 
According to Roboteam CEO, Uzzi Rozzen, "Roboteam's robotic systems extend the operational capabilities of any combat team in a wide range of operational missions, significantly improve the security of the forces, prove high operational reliability, offer simple operation and maintenance, and open architecture that provides the end-user with the possibility of integrating a wide range of technologies and operational capabilities, including intelligence systems, electronic warfare, weapon systems, drones, and even additional ground robotic systems". 
The ROOK platform will be launched internationally for the first time, alongside the other members of the family of tactical UGVs during the Eurosatory 2022 show in Paris, June 13–17, Hall 5B, Booth A-358.