This post is also available in:

עברית (Hebrew)
Focus Telecom announced on May 17 that under its support and maintenance contract of all of its "National Time" systems at INPL (Israel National Physics Lab) in Jerusalem, it had installed a GPSdome unit for GPS cyber protection of the GPS/GNSS signals.
The GPSdome cyber protection system, developed by infiniDome, an Israeli startup company, will be tested and measured by INPL's own Dr. Nadya Goldovsky, on its ability of protecting the GPS/GNSS satellite signals from jamming and other interferences.
Over the course of several months, Dr.Goldovsky will test the system's ability to protect its four independent atomic clocks which continuously supply Israel's national time. The objective of the added cyber protection system is to enable continuous, uninterrupted GPS/GNSS service which allows for full operation of the clocks, even under a GPS cyber-attack. Furthermore, to enable a real-time alert of an attack taking place on this critical national system, infiniDome's CommunicationModule was installed which reports any such attack to infiniDome's Cyber Security Cloud.
"We're proud to install Focus Telecom's protection solution on INPL's National Clock of Israel" said Ehud Sharar, Focus Telecom's CEO. "For many years Focus Telecom had been providing INPL's synchronization systems as Microchip's partner in Israel, the leading company in the world for synchronization systems of time, frequency and phase."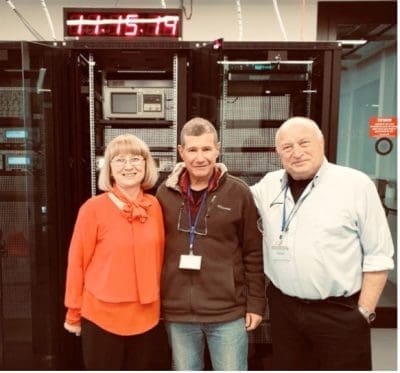 The threat of cyber-attacks on Israel's critical infrastructure is growing, and the entities running and operating these facilities must prepare for this threat ahead of time", said Shlomi Mazor, Focus Telecom's VP Sales and Marketing. "The GPSdome cyber protection system upgrades the synchronization solutions offered by Focus Telecom to critical infrastructure facilities, and prepares them to cope with this growing threat. The protected synchronization systems Focus Telecom provides enable continuous operation of these critical systems, even under jamming & spoofing attacks as well as other interferences.
"The market for GPS/GNSS protection systems, especially against jamming, spoofing and other interferences, is growing rapidly across the world as a response to the rising number of attacks by use of cheap, easily obtainable jamming and spoofing devices", said Gai Mar-Chaim, senior partner at strategic consulting company, POC. "Markets and Markets research company, published a recent report in which it predicts the market to grow beyond $5B as early as in 2022".
"GPSdome is a cyber protection system developed based on military technologies and principals which was adapted to non-military, commercial use", said Omer Sharar, infiniDome's CEO. "Our systems are already deployed and operational in Israel at multiple sites in the defense/HLS sector, border protection, financial sector and telecom sector. Recently, infiniDome has signed a global distribution contract with an international PNT solution provider to sell its GPSdome systems in over 120 countries."
Focus Telecom Ltd., which was founded in 1995, develops and supplies a wide range of services and products for the civilian and military communication industry in Israel. The company is a leader in the development and supply of engineering solutions integrated with atomic clocks in the defense, telecom, synchronization, and satcom fields. The company represents the American company Microchip, a world leader in the timing, frequency and phase synchronization servers field.
For more information on Focus Telecom visit www.focus-telecom.co.il
InfiniDome Ltd. develops and supplies cybersecurity systems for the protection of wireless communications from blocking, jamming, and spoofing attacks. The company's products protect GPS- and GNSS-based systems which consist a critical component of the autonomous vehicle, drones and truck fleets. The company's products are successfully operative and distributed all over the world.
For more information on InfinDome visit www.infinidome.com