This post is also available in:

עברית (Hebrew)
What do HLS, search and rescue, wearable cooling technology and cannabis greenhouse monitoring have in common? All include groundbreaking technologies under development, presented by the finalist startups selected to present to the screening committee for iHLS Security Accelerator's seventh batch.
The startups presented innovative developments and original ideas in a wide array of fields, from unmanned systems, laser, simulation, IoT, to solutions in big data, video analytics, face recognition, wearable technology, smart city, and more.
Committee members included leading technology experts from IAI, Israel Police R&D, iHLS, Incubit – Elbit Systems, and APM Law Firm. The committee, led by Tal Catran, the iHLS Accelerator Director, 'will choose the most promising startups among the presenters. 
Among the disruptive ideas with dual-use potential (security and civilian markets) was a wearable cooling device for hot outdoors environments, designed for sports as well as for law enforcement and military applications. The device under development by the startup ClimateGo can cool the body through the arm alone, without any heat excesses. The 400 gr device has a dedicated charging unit.
Search and rescue teams and volunteers are required to train and maintain worthiness. An innovative simulator developed by the startup Atlas simulates urban search and rescue environments and supplies a mobile solution mounted on a truck, for all types of training missions. Concrete walls that have to be lifted or cut, a water challenge, and more are included in a modular container which features a sound simulation system, concrete pressure, smoke, after-shock simulation, and more. The simulator includes a unique command and control system designed to supply high levels of security and investigation.
The development is designed for the training market in the US, Japan, Israel's Home Front Command, etc.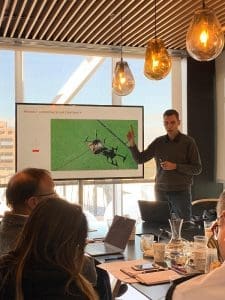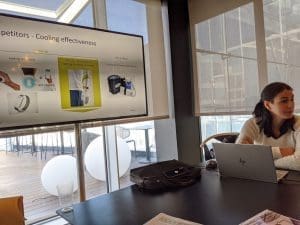 Among the technologies showcased were several intriguing drone systems. The miniaturized autonomous drone, the size of a smartphone, is developed by Selfly. It can recognize faces, categorize objects, and 3-d map the environment. The AI-based drone that uses SLAM technology is equipped with two cameras. The technology fuses the data and builds a unified map. This constantly learning system is controlled by a remote processor and can be used for applications such as security, cannabis and other greenhouse monitoring, etc. 
EyeKnow's system develops a disruptive technology which deciphers people behaviors in video in an accurate, low cost manner while using minimal quantity of labeled data. The system solves the problem of the availability of large amounts of labeled data and high costs of training and behavior recognition in deep learning based systems. The system can recognize slight gestures and enables an effective solution for detecting violence in kindergartens and various behaviors for smart cities, policing and security.
Another entrepreneur has developed a unique laser-based counter drone technology that can be mounted on an AFV. 
Correlata makes the operations and IT infrastructure realm accessible to company managers. The development identifies risks and inefficiencies in organizations through a special, patent-based engine.
These developments were only some ot the exciting ideas presented to the Committee, which will chose the most promising ones for the iHLS Security Accelerator Program.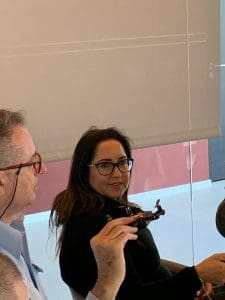 Interested in meeting more HLS and cyber startups? Attend iHLS InnoTech Expo Tel Aviv – Israel's largest innovation, HLS and cyber technologies expo – on November 18-19, 2020 at Expo Tel Aviv, Pavilion 2.