This post is also available in:

עברית (Hebrew)
Many resources are invested by organizations, companies and integrators in order to secure their critical facilities and assets. Providing perimeter security and intrusion detection to a power plant, airport or even a parking lot requires the installation of a large number of video motion detection cameras every 60 m. Moreover, the cameras, fence sensors etc. are influenced by weather conditions, dust etc., and the cameras must be very close to the fence in order to detect the target.
In the past, radar systems were considered very expensive and complex, and their use was confined to the military sector. However, the breakthrough achieved by MAGOS Systems, an Israeli company, has opened the civilian market to radar technology, making it available for commercial use, with low costs, without compromising on military grade performance.
MAGOS Systems' advanced radar technology has revolutionized the civilian market of perimeter security. Recently, a new AI-based system has been added to their series of products.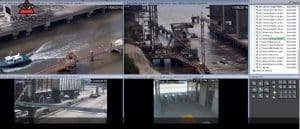 The company's radar systems replace existing detection measures and yield volumetric perimeter protection in all weather and lighting conditions with a minimal false alarm rate. 
With military grade performance, plug-and-play design, and low cost of ownership, MAGOS Systems is leading the way in the perimeter security market. 
The radar security approach requires only a few devices, installed with a 300-1000 m distance between them, an advantage that decreases installation, calibration and maintenance costs.  
MAGOS Systems' radars feature detection ranges of up to 1000 meters, covering up to 200 acres with a single radar. 
The ground-based radar automatically detects the target and automatically cues all relevant Pan Tilt Zoom(PTZ) cameras to , in a way that leaves human out of the loop, and cuts expenses.
The SR-series products developed by the company integrate seamlessly with the leading  VMS (Video Management Software) and the leading PTZ cameras models via MAGOS Systems' MASS radar management software.
MASS software allows for a motitude of integrations with a variety of perimeter security technologies, such as Autonomous drones, Acoustic cannons, laser flickers etc.
The radar system is also characterized by extreme power efficiency. 
The company's solutions include a series of ground-based radars with varying coverage range for a broad base of applications, along with an automated radar management software. MAGOS Systems' radar technology allows for 24/7 all-condition detection of a protected site in a cost-effective manner. 
MAGOS Systems' radars cover 100-120 degrees in Azimuth and 30 degrees in elevation and pinpoint a target's location with <1m accuracy and a single radar can follow up to 100 targets simultaneously.
MAGOS Systems' radar product line includes:
SR-250 – Detects targets up to 250 m and covers 30 acres
SR-500 – Detects humans up to 400 m and vehicles up to 600 m, covers 60 acres
SR-1000 – Detects targets up to 1000 m and covers 120 acres
According to the company's VP Marketing & BD, Gadi Bar-Ner, MAGOS Systems' radar based perimeter protection solution have recently gotten even better with a unique integration of their radar with an Artificial Intelligence(AI) target Classifier, called MASS+AI. The technology integrates the high-resolution radar with the target Classifier into an autonomous perimeter security system from detection to reaction: The system detects the target in all weather and light conditions, automatically directs the cameras toward the target, classifies the target using the AI classifier(Human,Animal, Vehicle), alerts and creates a VMS event only on valid targets, and then allows the user to quickly react: It can automatically stream live directions and videos to patrol, auto-launches a drone to target, activate a laser flicker, an acoustic cannon, flood light or a VOIP loudspeaker.
The AI Classifier minimizes the system's false and nuisance alarm rate. The technology is optimal for securing remote sites, combining the best radar detection technology with the leading target classification method – artificial intelligence.
Founded in 2008, MAGOS Systems first specialized in advanced radar solutions for the military and defense markets. In 2015, the company diverted its focus on developing best-in-class systems for the commercial security market. Today, MAGOS Systems' radars are used in over 30 countries in critical infrastructure, data centers, electric utility sub stations, and oil refineries as well as in other commercial verticals like vineyards and car lots.
The company has offices in Israel, N.America, India & Germany, 
In the future, the company intends to develop the next-generation radar for drone detection with improved resolution and range and continue to expand the vast integration base with various security platforms.