This post is also available in:

עברית (Hebrew)
Maintaining urban security has been one of the major challenges facing municipalities today. Cities need effective public safety solutions to ensure the security of residents and tourists, preserve public order and prevent crime and transportation disruptions. The Safe City approach harnesses digitalization, advanced sensing and command & control platforms for increasing urban security efficiently.
The Safe City model involves huge amounts of data gathered 24/7 from multiple sensors – cameras, acoustic sensors, license plate recognition systems, panic buttons, and more. However, cities often lack synchronization between the various emergency entities operating within the urban environment, and require a unified command & control (C2) system that manages day-to-day emergency situations and pin points incidents of interest producing real-time operative insights. Effective urban security solutions must be capable of detecting an event, identifying and classifying it, alerting all related systems and entities responding accordingly – all in real time.
Elbit Systems is a world leader in innovative, technology-based systems for diverse defense, homeland security and commercial applications, holding vast experience worldwide developing ground-breaking, security technologies.
The company and its subsidiaries operate in a wide array of fields, including aerospace, land and naval systems, command, control, communications, computers, intelligence surveillance and reconnaissance (C4ISR), unmanned aircraft systems, advanced electro-optics, electro-optic space systems, EW suites, signal intelligence systems, data links and communications systems, radios and cyber-based systems.
Safe city solutions are one of the company's major fields of expertise. As an integrator, Elbit Systems offers a unique, comprehensive security approach in a complex urban environment. Based on years of experience, the company integrates all the advanced technologies into a unified, turnkey project for maintaining public safety.
The integrative SafeCity solution offered by Elbit Systems encompasses three major levels of operation:
Advanced infrastructures

– the deployment of advanced sensors, LPR systems, alarm systems, tactical unmanned aerial vehicles, etc. around the city or district for a 24/7 surveillance. Such an infrastructure can include one of the company's in-house field-proven intelligence and electro-optic systems or rather rely on the company's expertise in integrating legacy systems upon the customers' request.  

Data processing and analysis

– the C

2

and analytics systems serve as a multi-layered solution. Beyond the deployment of thousands of sensors around the city or district in order to identify anomalies, the multi-layered approach integrates C

2

systems with analytics, which extracts the relevant incidents out of the huge amount of data and alerts the relevant law enforcement authorities. This includes the investigation of past events with machine learning algorithms aiding to identify the anomalies, and tracing back the alleged suspect's course of action prior to the crime. The advanced analytics capabilities include identifying behavioral patterns, detecting specific vehicles documented in hours of video footage, crossing the information with criminal or terrorist intelligence, etc.

Training and instruction

– In large-scale projects, Elbit Systems supplies multi-level training and instruction to teams, from the command center teams to the security forces in the field. Elbit Systems' capabilities with this respect are based on its vast experience in projects in conjunction with Israel's Home Front Command, among others.
The advanced, multi-level solution is offered by Elbit Systems' subsidiary, Elbit Security Systems (ELSEC), which operates as an integrator in the security, electro-optics and software fields. This innovative company, located at the Israeli southern city of Sderot, leverages decades of experience, expert methodologies and technological superiority to deliver turnkey Safe City solutions.
ELSEC's Urban Security Solution enables municipal authorities, emergency services and law enforcement agencies to reduce crime, urban violence and public disturbances. The solution also helps secure public events and maintain effective crowd control at sporting events, demonstrations, concerts and other large public gatherings.
Using deep learning image analytics technology, combined with media aggregation and rapid alerts, the system provides a comprehensive situational awareness and advanced situation management solution that facilitates detection, identification and location capabilities for emergency response teams.
Thanks to this platform, first responders are able to achieve a significant reduction in the reaction time necessary to successfully handle crime-related incidents and emergency scenarios.
High levels of urban control are achieved by the incorporation of the latest technologies and operational concepts, using a range of sensing elements, communications capabilities and a fully integrated C2 system to facilitate interoperability between all active forces. Together, these elements provide unified control and smart information management. The solution incorporates a wide array of technologies:
Camera Coverage and Public Address

providing 24/7 surveillance.

Advanced Video Analytics –

a powerful algorithm allows for advanced visual search capabilities and identifies predefined abnormal events in a defined location, maximizing the efficiency of the deployed cameras.

License Plate Recognition System (LPR)

allowing for both real-time and investigative tracking.

Real-time Situational Awareness

about events that require operator attention, such as criminal activities, traffic disruption, suspect detection and other points of interest.

Command & Control Center:

At the core of the solution, the

C2π

C

2

system applies advanced data processing methodologies to connect multiple elements into a common operational situational awareness picture.

Intelligence:

Open Source Intelligence (OSINT) from social media and Internet services to extract valuable intelligence information and generate actionable intelligence and alerts.

UAS:

Urban surveillance is supported by the most advanced tactical aerial observation systems providing rapid access and real-time video transmission from complex locations.

Alarm Systems:

The solution integrates with internal security systems, such as CCTV, access control systems, PA and alarm systems, and biometric readers. When an event is detected, the exact location is pinpointed on a GIS map screen, and observation measures are automatically directed to the detection zone.

WideBridge:

an immediate and secure communication solution

for municipal and law enforcement organizations providing interconnectedness of voice, data and video over LTE\3G and WiFi bringing people and devices into group collaboration (IoT) utilizing a user-friendly smartphone interface.
ELSEC has been deploying these state-of-the-art technologies within the framework of its projects around the world. One of the leading integrative safe city projects executed by ELSEC was the Safe District project at Maldonado District, Uruguay. The $19 million contract from the Maldonado District Administration spanned across six municipal authorities, including the well-known Punta Del Este tourist resort, over a total of 2000 km².
Elbit's safe district project
The Safe District project, which has demonstrated the company's ISR and HLS capabilities, included more than 1000 cameras and sensors, among those vehicle traffic control, laid out at strategic standpoints. The collected information was transferred to a control center, which includes C2 systems with unique analytics capabilities. The sensors and cameras infrastructure allow the operators of the control room to obtain real-time data from the field and alert law enforcement officials, including logistics and emergency personnel, in conjunction with the nature of the event.
Training and Instruction – HLS² System
Emergency Response Simulation: Advanced training and instruction services are an essential part of the safe city solution. Elbit Systems' homeland security (HLS) simulation solutions realistically simulate complex emergency scenarios where multiple security and rescue teams must seamlessly coordinate their life-saving operations, in both virtual arenas and live training environments.
The systems simulate a variety of interactive security incidents including terror attacks, accidents, natural disasters, dispersion of hazardous materials, attacks on strategic infrastructure, security for large scale sporting events, and maintenance of public order.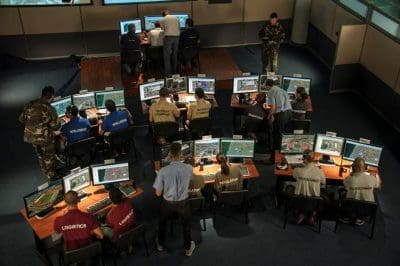 Elbit's HLS training for municipal authorities
Training and instruction technologies include the HLS live training system, the incident command training system for key decision makers, the border protection simulator, the emergency medical services simulator, and more.
Operational with several customers, including the Israel Defense Forces and Israeli municipalities, the advanced operational Homeland Security Simulation (HLS2) system provides 3D program training, operational mission rehearsal and security planning for first responders and emergency agencies such as police, rescue & fire fighters, medical care and Nuclear, Biological, Chemical and Radiological (NBCR) teams, in complex urban environments, handling diverse catastrophic situations.
The HLS² system has demonstrated some of its newest capabilities. The platform now addresses the unmet need of simulating large scale public response and intensive media coverage, both inherent during HLS events. A specifically designed application simulates news flashes, characteristic social media content and citizens' inquiries during an emergency, enabling trainees to practice under new pressures, helping them to discern, prioritize and act upon both on the operational and communication levels.
Another new capability expands the role of drill controllers, providing them with the ability to intervene and manipulate drills, responding in real time to trainees' performance.
MAY – Acoustic Sensor Data Fusion System
Elbit Systems' approach of integrating various systems and sensors for command & control creates the synergy that eventually enables effective incident response and even incident prevention. With no man-in-the-loop, MAY persistently senses its surroundings, detects acoustic abnormalities and autonomously provides a real-time analysis of emanating sounds based on algorithms and deep-learning. Once it detects an acoustic anomaly such as gun-fire, screaming, alarms or vandalism sounds, the system identifies the sound type, classifies the event accordingly, pinpoints the geo-location of the signals and automatically disseminates actionable information to relevant operating forces.
The MAY acoustic sensing and analysis system demonstrates this advantage: The data fusion process that starts by directing a camera to the relevant incident location, continues with the opening of an incident record at the C2 center and ends in the activation of the relevant Standard Operating Procedure.
The system provides real-time, autonomous, wide-area acoustic-based intelligence that significantly enhances situational awareness in urban and border areas. MAY dramatically reduces the response-time of first responders, increases efficiency by avoiding irrelevant event interactions and introduces a strong deterrence factor to urban environments. These make it an effective solution for homeland security and law enforcement agencies.
MAY is based on compact and durable acoustic sensors which operate interactively within an area of interest. These fixed-installation sensors sustain long-term, outdoor 24/7 operation using either wired or wireless communications.
Elbit Systems' Integrative Advantage
The company's integrative approach offers a proven, comprehensive solution that incorporates a wide array of systems working in coordination to produce efficient response at the safe city and public safety realms.
The unique systems fusion process that begins at the camera sensor directed at the suspected incident, continues through the registration of the incident at the command & control center, and ends with the suitable Standard Operating Procedure. This way, various systems and sensors are integrated into the command & control array, creating the synergy that will eventually respond to suspected incidents or even prevent them.
The unique three-dimensional solution offers, first and foremost a technological advantage that is further enhanced by the deployment of an advanced sensor infrastructure, which provides 24/7 surveillance information that is gathered and analyzed. The infrastructure provides vast amounts of data which are in turn combed through with cutting-edge information analysis and processing capabilities that produce real-time actionable insights.
The excellent training and simulation solutions add the final piece to the puzzle, supplying proven, experienced-based instruction to the professional teams at the various levels of the safe city arena.