This post is also available in:

עברית (Hebrew)
Live demonstrations of the unmanned systems in action were a major attraction during today's AUS&R 2018 conference and exhibition, with the fascinating moderation and detailed explanations by Tal Catran, iHLS Accelerator Program manager.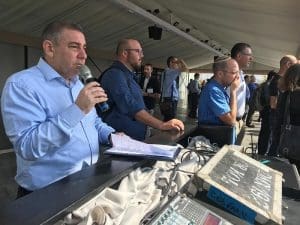 The impressing capabilities of the Avenger Responder 8X8, developed by Gahat Systems, were showcased first. The vehicle is designed for carrying equipment and teams on ground and in the sea. This is an amphibious system with floating and sailing capabilities when equipped with an external engine which enables rapid movement in sweet and sea water. It can pass through water obstacles, snow and mud.
The vehicle can turn 360 degrees on spot without difficulty and enables movement in narrow and crowded sites such as in allies, and can climb stairs.
Various systems can be installed on it for security, law enforcement and rescue missions.
From the fascinating demo in the water the audience turned to look up in the sky, to see the Blueskimmer Drones' model Orange Rescue – a search and rescue drone, characterized by high strength and very light weight. It can fly autonomously, is capable of withstanding strong winds and strong water splashes caused by high waves during rescue missions.
As opposed to other drones by leading companies in the world, the Blue Skimmer Drones platform is casted as one piece, which enables the unique combination of high strength and lightweight. The Orange Rescue drone weighs only 3.5 kg, including a floatation device. Its flight endurance reaches approximately 50 minutes.
The drone is fitted with a float or floats fitted on the underbelly of the aircraft. The minute the drone touches the water, its floatation device bursts just like a car safety airbag.
Also demonstrated were the extraordinary capabilities of General Robotics' DOGO ultra-light handheld robot designed for anti-terror warfare. The robot equipped with a weapon is capable of accessing dangerous regions and supplying video of the environment to the remote forces that stay secure.
The DOGO's applications include hostage rescue, close quarter combat, fatal funnel clearance, urban warfare, tunnels and underground warfare, ISR and target detection. It can be sent to get shot and to provide cover fire.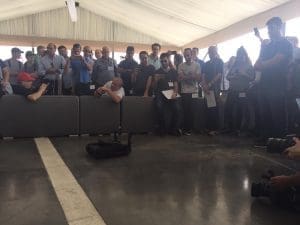 The robot weighs only 10 kg. It is compatible with small pistols and equipped with 2-way audio for negotiations, a stair climbing mechanism and secure wireless communication. 8 video camera supply day and night situational awareness.