This post is also available in:

עברית (Hebrew)
One of the intriguing systems that will be showcased at the AUS&R unmanned systems and robotics conference and exhibition on October 15, 2018 is a unique platform of a tethered drone (tethered to a power cable) designed for a wide range of missions, from surveillance and photography to delivery, security, search and rescue and more, developed by Blue Skimmer Drones.

The Orange Rescue model sported at the exhibition is a search and rescue drone, excelling by its high strength and, at the same time, very light. It can fly autonomously, is capable of withstanding strong winds and strong water splashes caused by high waves during rescue missions.
Danny Salomon, the entrepreneur behind Blue Skimmer Drones, says the idea came up when he worked as a journal photographer at Yediot Ahronot. He was looking for an alternative technology to the IDF observation zeppelins flown by the IDF at the Gaza strip area.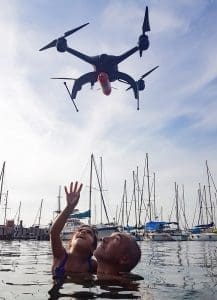 The drone platform that he developed at his home garage was at first based on parts ordered from the US. Later on, he started to manufacture the drone's fuselage from carbon. As opposed to other drones by leading companies in the world, the Blue Skimmer Drones platform is cast as one piece, which enables the unique combination of high strength and lightweight.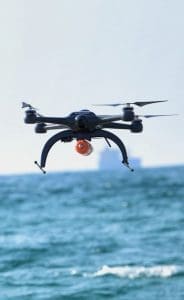 The Orange Rescue drone for search and rescue missions which will be shown at the exhibition weighs only 3.5 kg, including a floatation device (with three floats its weight reaches some 5 kg). It flight endurance reaches approximately 50 minutes. When carrying a 3 kg payload – its endurance reaches 15 minutes.
The drone is fitted with a float or floats, a tube resembling the shape of a missile fitted on the underbelly of the aircraft. The minute the drone touches the water, its floatation device bursts just like a car safety airbag.
The platform has been already purchased for civilian and security purposes around the world, and several customers from Australia, New Zealand, India, Azerbaijan, etc. have expressed interest in the search and rescue drone.
In Israel, several local authorities, e.g. Tel Aviv and Ashdod, have been considering using the rescue drone for offshore missions.
AUS&R – Click here for all the details
Presentation / Booth / Sponsorship: Matan +972-54-8097456  matan@i-hls.com  info@i-hls.com