This post is also available in:

עברית (Hebrew)
IMI Systems – an Israeli defense systems house for combat-proven solutions and the developer and manufacturer of Iron Fist family of active protection systems (APS) – will showcase the Oshkosh Defense Joint Light Tactical Vehicle (JLTV) equipped with IMI's Iron Fist Light Decoupled (IF-LD) APS.
The IF-LD systems of IMI Systems is a hard-kill APS addresses a variety of threats such as short-range RPGs, anti-tank missiles, and more. Due to its modular design which does not require penetrating the vehicle's roof, the IF-LD provides an operational solution for all types of Armored Fighting Vehicles (AFVs)  from light armored vehicles up to MBTs.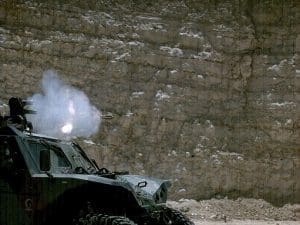 According to the company's announcement, the Oshkosh JLTV delivers next-generation performance to serve ground forces mission and is a trusted solution designed, built and backed by over 100 years of vehicle production, integration and lifecycle know-how to keep ground operations moving.
The integration of IMI's APS solution onto the JLTV demonstrates the vehicle's adaptability to new and evolving technologies to meet customer-specific requirements.
"We are proud to work with Oshkosh Defense, as a leading designer, manufacturer and marketer of military vehicles and integrate our IF-LD technology onto the JLTV solution of Oshkosh" said Avi Felder, IMI Systems CEO and President.