This post is also available in:

עברית (Hebrew)
Rafael Advanced Defence Systems' SPIKE LR2 has been chosen as the Anti-Tank Guided Weapon (ATGW) for the Australian Defence Force's (ADF) Boxer Combat Reconnaissance Vehicle (CRV). The SPIKE LR2 will be delivered by Varley Rafael Australia (VRA Systems), the joint venture between Rafael and the Varley Group. Australia is the second foreign country that purchased the new Rafael missile, in addition to the IDF. The announcement was made by Minister Pyne at the official launch of VRA Systems in a ceremony at Parliament House in Canberra.
Rafael's Spike missiles are advanced electro-optic precision missiles. The range of the Spike LR2 model can reach 5.5 km (in ground launching), 35% more than the previous version of this missile, and 10 km when fired from an attack helicopter (through a wireless communication channel). Similarly to other missiles in this family, it is a multi-purpose missile for a wide range of targets. The missile weighs only 12.7 kg and can be fired from all available Spike launchers (ground, air and sea).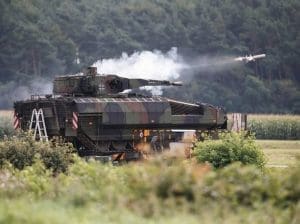 The Spike missiles that are widely used operatively by the IDF and many armed forces worldwide are precise guided munition missiles that can be launched from various platforms with up to 30 km range. Until now, Rafael has sold more than 30,000 missiles form this family to 30 countries. Recently, the company has won a contract for the manufacture and supply of some 1000 Gil-2 missiles to the IDF.
Jeff Phillips, Managing Director of the Varley Group said: "The 5th Generation SPIKE LR2 is the first of what we hope will be many opportunities for VRA to deliver Australian sovereign capabilities, drive innovation and jobs, and create export opportunities." He noted the significance of the decision for Australian defence industry, "This undertaking will be an Australian first. VRA Systems combines a world leader of defence technology in Rafael, with Australia's oldest and most respected defence enterprise in Varley. We will now deliver the world's premier Anti-Tank Guided Weapon for use by the Australian Defence Force."  
Major General (Ret'd) Yoav Har-Even, President and Chief Executive Officer (CEO) of Rafael, noted the decision builds on Rafael's 20-plus years in the Australian market, and follows a long line of similar partnerships around the world. "Rafael's strategy is to join with local partners that allow us to establish capability in the local market. We are extremely proud to have established the relationship with Varley, and we look forward to working with them to deliver the SPIKE LR2 system to the Australian Defence Force".
In addition to the SPIKE LR2, VRA will deliver a range of Rafael products for the Australian market including the TROPHY Active Protection System (APS) for armoured vehicles; the TAMIR Counter-Rocket, Artillery & Missile (CRAM) interceptor for short-range Ground Based Air Defence (GBAD); and the TORBUSTER Torpedo Counter-Measure (TCM) for submarines.
VRA's inaugural CEO, Mr Jacob Blitman, said: "VRA aims to maximise the proportion of SPIKE LR2 componentry produced in Australia and deliver through-life in-service support, making use of our reach-back to Rafael's research and development network in Israel. We will employ up to 70 Australians in our local facilities with potentially hundreds more across our Australian supply chain. Australian suppliers now have the opportunity to enter Rafael's global supply chain for the SPIKE family and a range of Rafael products and systems, servicing more than 30 customer nations."