This post is also available in:

עברית (Hebrew)
According to various scenarios, Israeli installations and civilians' homes are constantly threatened by enemy rockets. Two new products provide essential protection and ballisic shielding for HQs, field clinics, communication centers, briefing rooms, sensitive equipment storage and barrack deployments in hostile environments.
The systems were developed by the Israeli firm Ortech Defence Systems. The mobile protection structure, the Protected Container is equipped with all the necessary functions to provide complete shielding of personnel in hostile environments, including from ballistic shock-waves of up to 120mm, mortar shells and rockets.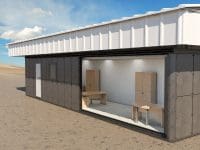 The structure is the size of a standard international container, and is made of lightweight materials, enabling it to be mobilized easily from place to place.  It requires no infrastructure, can be set up in any terrain and a number of Protected Containers can be connected together to create a shielded environment suitable for a large force in the field. All work-enabling functions, such as electricity, sewerage, communications and more, can be built-in to the structure itself.
When planning a complex, rapid operational deployment in a hostile environment, functional and vital workspaces need to ensure the protection and safety of personnel and delicate equipment. The Protected Container is designed specifically for this purpose – a safe structure, equipped with all necessary functionality, for immediate deployment, according to the company announcement.
For containers and structures that are already in place, Ortech offers the same high-level protection through a kit of modular panels, delivered and easily installed in field. The Modular Container Protection provides defense to walls, openings and rooftops against blast, ballistic and shaped charge hits and more.