This post is also available in:

עברית (Hebrew)
Israel's Defense Ministry has been working on a new obstacle system along the Israeli-Jordanian border, between Eilat and the Sands of Samar (north of Timna). Within the framework of this NIS 300 million-worth project, some 30 km were already deployed according to the model developed for the borders with Egypt and in the Golan Heights, with adjustments to the unique region of the Arava.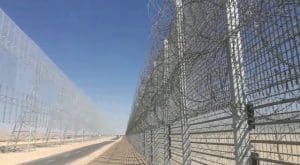 Works include system roads, observation towers, command centers and other advanced equipment. According to the Ministry of Defense's announcement, the physical obstacle includes a unique development for securing the new Ilan and Assaf Ramon Airport: A 30m-high fence. The fence, based on dozens of high poles, was designed to protect aircraft taking off and landing at the airport from various threats. The system currently being deployed will extend 4.5 km and will feature the physical fence and some technological developments.  
The works are achieved through collaboration and integration of all the components, dozens of contractors from the building and engineering department and the border administration take part in the project. The construction required the evacuation of old mine fields along 13 km.
The works will be finished within several months. The unique environment of the Arava region was taken into consideration in the planning, and efforts were made to minimize any harm to the landscape. Among others, some hydrological solutions have been developed in order to preserve the Arava stream, water cross-passages have been built in order to enhance the obstacle system's sustainability, ecological passages for animals, as well as anti-corrosion solutions, because of the proximity to the sea.