This post is also available in:

עברית (Hebrew)
The impressing cutting-edge unmanned vehicles, the latest models in this field, that are showcased at the AUS&R 2017 exhibition attract a lot of attention by the visitors and participants from the defense industries, IDF, experts and many media representatives from Israel and abroad.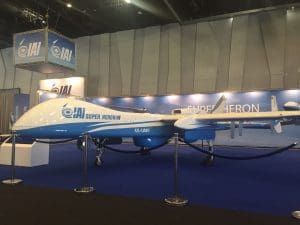 The Super Heron UAV is showcased at the exhibition by Israel Aerospace Industries (IAI).This Medium Altitude Long Endurance (MALE) UAS is designated for strategic and tactical missions. It has two automatic taxi-takeoff and landing systems (ATOL) and it is equipped with satellite communication for extended range (SATCOM).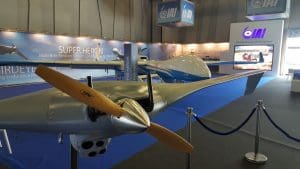 IAI also presents its BirdEye 650D, a long endurance SMALL Tactical UAS (STUAS), providing real-time stabilized day/night imagery data for urban operation and over-the-hill intelligence, as well as its UAV Mission Operational and Intelligence Center (MOIC). The center allows efficient command and control of advanced and challenging UAV missions. IAI is also presenting its maritime system KATANA USV.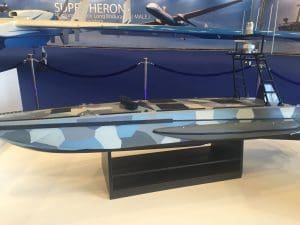 The visitors can also see at the exhibition the Thunder B, a UAV developed by the Israeli company BlueBird Aerosystems. ThunderB UAV is a unique unmanned aerial vehicle that attracts high interest in many armed forces around the world. The system has proved its capability to fly for more than 25 hours. It is a small and innovative tactical UAV(~28Kg) that, according to the Israeli company, creates a new niche in the tactical UAV arena providing capabilities previously found only in much larger UAV's. It usually carries an advanced EO/ Cooled IR payload and a long range communication system, all for an extended endurance.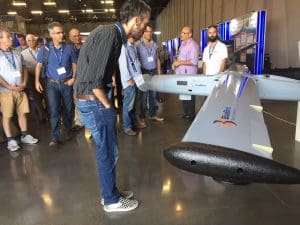 Steadicopter's Black Eagle 50 rotary unmanned aerial vehicle (RUAV) showcased here for the first time  is a robotic observation system for civil, military, and homeland security missions. The objective of the Black Eagle is to provide maritime and land solutions for intelligence, surveillance, target acquisition and reconnaissance (ISTAR), thanks to its ability to vertically take-off and land, with hovering capability, together with a day & night sensor.
Also showcased is Tactical Robotics' Cormorant VTOL UAV designed for casualty evacuation, cargo delivery and logistics, that can fly, take-off and land in obstructed areas such as urban environments and rough terrain that are inaccessible to helicopters.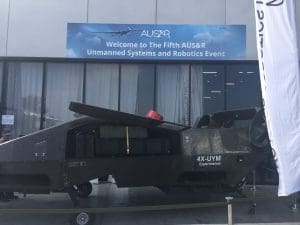 An impressive ground vehicle showcased at the exhibition, among other ground systems, is the Rambow UGV by Meteor Aerospace – a unique autonomous electric high performance vehicle designed for multiple missions, including supporting ground combat and defending the troops, strategic installations and border security, intelligence missions, and more. Its autonomous capability is based on sensors that detect obstacles on the way. Its maximum speed is 50 kmh.  
Demonstrating in the drone cage are IDrone Insights drones designed for mapping, photography and training missions, alongside Geodrones' system that was developed for missions such as aerial mapping, infrastructure inspection, and more.
Aitech exposed its A-176 Cyclone, a small "super computer". This is a ragged and secure system that controls and manages sea, ground, air and space unmanned systems.  
The amazing picture is completed with various equipment systems such as the Manta Ray drone parachutes, and many others.