This post is also available in:

עברית (Hebrew)
Israel Aerospace Industries (IAI) introduces the new naval application of the Green Dragon, a member of its family of Loitering Munitions. In order to address the unique requirements of the naval arena and vessels, adjustments to the Green Dragon canister and communication antenna were made.
Recently, the tactical land version of the Green Dragon was successfully demonstrated in a series of trials in a full operational scenario end to end.
IAI's family of loitering munitions includes the Green Dragon – a tactical, low-cost solution, designed to provide significant situational awareness and firepower in a compact envelope to Combat Ships, Offshore Patrol Vessels and Patrol Boats. Green Dragon is a silent, all-electric Electro-Optically guided munition with ninety minutes of loitering time, during which its operator can collect visual intelligence of surrounding area areas – especially in congested waters and shore targets, in a range of up to 40 km. The Green Dragon can provide ISR service to the launching platforms, then surveys, locates, acquires and finally destroys operator selected target.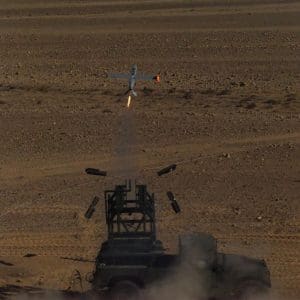 Green Dragon has up to 3 kg warhead and extremely high accuracy. The Green Dragon is launched by a small rocket assist motor from a sealed, marine approved canister – quickly clearing the ship's deck area. As many as 12 units can be carried even on a small vessel and launched upon request. The operator uses a small, tablet-sized control panel and a tactical low-power data-link to operate and control the weapon. The Green Dragon has a built-in "abort and go around" capability to prevent unnecessary collateral damage and mistaken targeting. The unique combination of small footprint on deck, wide launch envelope, silent operation, long mission endurance, long-range communication and pinpoint accuracy, coupled with safer "in canister" logistics, makes the Green Dragon an ideal "sensor to shooter" cost-effective weapon to naval vessels.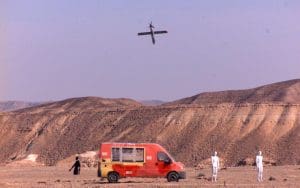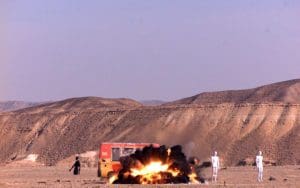 According to the company's announcement, IAI's advanced loitering munitions offer an operational solution to the complex naval arena with a special emphasis on the asymmetrical warfare that navies experience today. The new adjustments made to the Green Dragon provide an excellent tactical solution for Combat Ships, Offshore Patrol Vessels and Patrol Boats.
The unique organic independent capabilities provide an operational flexibility to the naval commanding level, both at the intelligence level and at the operational level.
IAI's family of loitering munitions includes the Harpy, Harpy NG, Harop, Rotem and Green Dragon.