This post is also available in:

עברית (Hebrew)
Advanced ground, naval, air and cyber systems were showcased by the Israel Aerospace Industry (IAI) at its unique and impressive booth at the international INNOTECH conference and exhibition for cyber, HLS and innovation. The event held on Nov.17-18 at Expo Tel Aviv was organized by iHLS.
IAI showcased at the exhibition innovative capabilities that attracted much attention in three major fields: Intelligence, HLS, and cyber.
In the HLS and intelligence fields, the company demonstrated WASP – Wide Area Surveillance Payload – advanced perimeter security cameras. WASP is a small, light-weight aerial payload for perimeter security, capable of a widespread aerial intelligence perimeter security capability. WASP is an electro-optic system, which provides the operational operator with situational awareness regarding widespread perimeters. It provides constant monitoring and executes mapping, alerting, high-resolution investigation. The medium-size camera weighs 8 kg.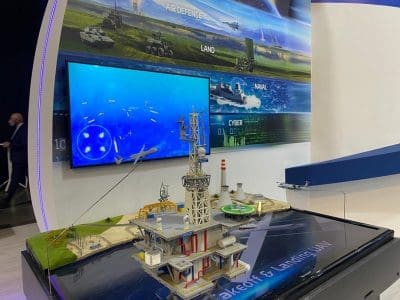 IAI showcased radars and smart systems that provide intelligence analysis based on a large number of events. A spectacular model presented at the booth reflected offshore and border security capabilities. According to Noam Donenfeld, Marketing and Sales Director, IAI, the model represented "an offshore installation protection system with sensors for monitoring intrusions into the premises and a system that fuses the sensors input to a comprehensive command and control picture, directing the intercepting elements to thwart the intrusion incident."
IAI also presented its advanced national cyber technologies in two main fields – cyber defense systems for state and infrastructure, and cyber training systems.
Alongside these solutions, there were also end-solutions in forensics, training and state management.
Noam Krakover, Marketing Directorate Manager, Cyber Div.: "At the exhibition, we presented technologies and innovative products based on lessons and experience from a large number of projects we are leading all over the world. One such project, for example, is the cyber project for smart transportation, that IAI has been leading with its partners for the Israel Ministry of Transportation."
Undoubtedly, IAI sported innovation at its best in all fields at INNOTECH.