This post is also available in:

עברית (Hebrew)
Last week, the Israel Security Prize was awarded to Four classified defense projects by the Mossad, Israel Security Agency, IDF, Defense Ministry's Administration for the Development of Weapons and Technological Infrastructure (MAFAT) and Israeli defense industries. Among the recipients of the prize was a project by the IDF Computer Service Directorate, in collaboration with the Israel Security Agency, Defense Ministry, the National Cyber Division, the Mossad and the IDF's Intelligence Directorate.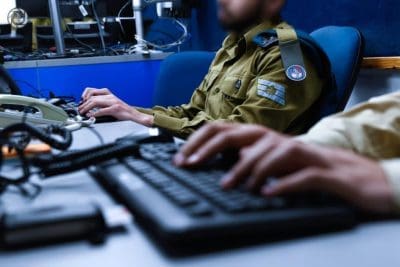 The prize was awarded for the collaborative efforts in cyber defense and the thwarting of cyber threats, namely the establishment of a systemic cybernetic defense based on the perception of the cyber battlefield as a whole, and the development of a wide array of technological capabilities against cyber attacks. 
In a special interview to technology media representatives, Lt. Col. Y, Head of Cyber Defense Operational Technologies Branch in MATZOV, IDF, has revealed that his unit is an elite unit within the cyber array, responsible for the development of ground-breaking systems. "We have produced a 'Cyber Iron Dome' – a collection of systems, entrances, and operational activities that together help us identify, jam, thwart, and even return 'fire' to the shooting sources. From our point of view – we see it as a warfare dimension of its own."
The 'Cyber Iron Dome' includes automatic systems, concepts, as well as operational activities operated by a human at the end. It reflects a basic principle, that as the IDF is Israel's Defense Force, we as well want to transfer the war to the side of the adversary, we are not waiting for the enemy to cross into 'our own territory'.
"The 'Cyber Iron Dome' development is the result of a collaboration within the defense community, the prize is awarded to the entire defense community, which during the last two years has been working in an unprecedented cooperation, with each organization bringing in its relative edge and together we develop an innovative, ground-breaking solution. In some of the places we are world leaders. The deep partnership of the IDF and the security agencies, the collaboration between these six organizations, in the national space, is an exceptional phenomenon in the world."
"Our work integrates intelligence, technology, and operations. In our Branch we research the adversary's cyber realm. It is a digital weapon, although not including gunpowder, we study the cyber dimension, getting to know the adversaries and enemies in various methods, developing innovative, ground-breaking solutions." 
"This year has witnessed numerous battles in the cyber dimension, and we won most of them, succeeding in identifying and jamming the attacks with our 'Iron Dome.'
"I'm proud and privileged to be the commander of my soldiers – excellent soldiers selected according to their capabilities and personality, eventually forming part of the warfare space". "They are selected through widespread screening also regarding the cognitive and psychological aspects. In recent years, the percentage of women is higher, and we strive to find more women soldiers, in collaboration with the Ministry of Education, not as part of a gender agenda but because we are looking for the best people, and there is no reason to have a women/men ratio different from 50/50."
Asked about collaborations with civilian organizations, Lt. Col. Y said: "The IDF and the spectrum and defense Division have collaborations in the development of technologies. In Israel, there is a fabulous cyber market and we are working together with Israeli companies in order to develop technologies, but in the end, we count only on ourselves in the development of capabilities."