This post is also available in:

עברית (Hebrew)
While the autonomous driving of private vehicles is still not a daily routine, a successful Israeli collaboration in the robotics and autonomy fields is providing an advanced solution of a hybrid electric vehicle already now – integrating all-terrain manual and autonomous modes of operation. 
DSRaider, the manufacturer and developer of the unique EZRaider electric vehicle, has joined forces with SoftRide, which develops a platform for autonomous driving that can convert any vehicle driving in operational and agricultural regions into an autonomous vehicle. The EZRaider powered by SoftRide system is an autonomous and hybrid platform enabling LiDAR-guided autonomous driving. It is based on EZRaider vehicles, known for their advanced capabilities in HLS, military, law enforcement, and tourism and recreation applications, constituting today a new category in the electrical personal mobility field.
The two Israeli companies possess the knowledge and patents regarding the vehicle and the expertise in the field of autonomy.
EZRaider is the first and only personal 4×4 electric vehicle, combined with a special mechanically-designed suspension system, available for standing or seating. It is a mobile, foldable vehicle, simple to transport and capable of driving in a wide range of challenging terrains, including sea sand, mountainous terrain, mud, etc. EZRaider's range reaches 80km and more and it can carry a hundreds of kilograms load. The vehicle provides a stable and safe driving experience.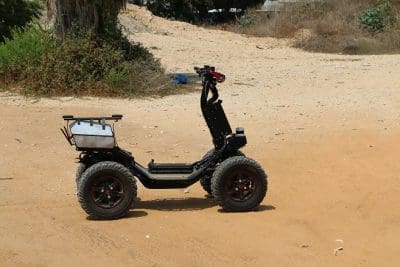 The collaboration of forces by the two companies has yielded the development of a ground-breaking dual-use vehicle – manned or driven autonomously, based on a plug-and-play solution that enables the agile integration of the vehicle in any environment.
The wide range of applications of this hybrid vehicle include:
Security – perimeter security, border security, missions based on a routine and pre-planned track.

Agriculture – data collection and spraying.

Logistics – equipment transportation, with a towed cart.
SoftRide's autonomy software provides the vehicle with the autonomous capability of driving on a predefined path, the unique and safe object identification and response capability, as well as an advanced user interface which includes control from a remote control room. The control room or end-user can observe the vehicle and follow its performances through the on-board camera, and control the vehicle – directing it to stop or advance.
Safety from all aspects is first priority in this development. The hybrid vehicle platform excels in its high reliability, providing the most secure autonomous driving while taking into account several limitations: the autonomous ride in non-public areas, without people manning the vehicle, and at an area of operation or along a path more or less defined or limited.
Yonatan Horovitz, SoftRide's CEO and co-founder, said: "Such a platform is highly demanded in many industries, thanks to the elegant solution for autonomous, hybrid vehicle integration." In fact, the vision of the company, founded a year and a half ago by two ex-Innoviz employees, is to spread the message of autonomy to the wide variety of industries right now. The company is working with several manufacturers and end-customers in various industries in order to make autonomy accessible to all, today.