This post is also available in:

עברית (Hebrew)
What do drone threats, pedophile crime, terrorism, and the COVID-19 pandemic have in common? The response to all of these threats and many more is provided by the ground-breaking technologies developed by the Israeli company NSO Group. 
NSO is the world leading tech company developing technological solutions, licensing software solutions to governments and law enforcement agencies to investigate and prevent terror acts, fight crime, increase public safety and save lives.
The company has excelled in identifying challenges threatening human society. This has been also demonstrated over the backdrop of the COVID-19 pandemic, by the development of FLEMING – the analytics system that enables governments to block the pandemic and return to normal through the identification of COVID-19 patients and people who came in contact with them. The company's advanced solutions can cope with the most advanced encryption methods currently used by terrorists and pedophiles, that are now harder to monitor and track, as well as cope with drone threats, thanks to its new system – Eclypse.
The increasing availability and accessibility of affordable drones, which can be fitted with advanced offensive capabilities, has the potential to create life-threatening situations. Launched recently, Eclipse is an innovative drone defense system that helps counter rogue drones before they become a threat. The system offers a threat mitigation capability for dense urban environments, smart cities, stadiums, critical infrastructure, airports, correctional institutions, landmarks, private enterprises, and more.
This premier cyber counter-drone platform is designed to automatically detect, take over and safely land unauthorized commercial drones in a designated zone, to differ from military counter-drone solutions.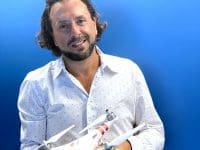 How does Eclipse reduce risks to public safety? Michel Berdah, NSO's VP Sales explains:  "Over the past few years, the presence of drones in public spaces has become an ever-increasing threat. In the wrong hands, these unmanned aircrafts can turn into dangerous weapons. NSO identified the danger of drones being used for nefarious purposes early on and acted to develop an effective, safe and sophisticated tool that provides airtight protection from drones in public spaces and critical infrastructure facilities."
Eclipse deploys an autonomous end-to-end cyber solution to detect activity within a designated perimeter, identify the presence of drones, take over control of the threatening drones in an "elegant" way, and land them safely right where the operator has chosen to. The system can identify friend or foe drones flown at the same airspace.
Eclipse operates automatically according to pre-defined parameters, removing the requirement for real-time decision making. Furthermore, it is designed not to jam existing communications platforms, with no impact on wireless communications and GPS signals. It is the only drone defense system that is FCC, CE compliant.
With its distributed architecture, the platform seamlessly connects to existing infrastructure. This best-in-class technology has been developed in-house by the company's seasoned and knowledgeable development team which brings to the table a decade of experience in the defense technology realms. 
"Eclipse is already deployed in dozens of countries, helping security and enforcement forces save lives. We look forward to working with future partners around the world," Michel Berdah points out.
NSO's wide array of products is used successfully in various countries around the world serving intelligence agencies and governments in life-saving missions, including terrorism prevention, breaking up child exploitation, assisting search and rescue (SAR) teams in locating survivors trapped under collapsed buildings, helping governments plan lockdown exit strategies, and more.
As Michel Berdah concludes, "I can proudly say that the NSO's technological capabilities defeat world evil, day by day, night by night."