This post is also available in:

עברית (Hebrew)
Raytheon Missiles & Defense and Rafael Advanced Defense Systems have signed a joint venture to establish an Iron Dome Weapon System production facility in the United States. The new partnership is called Raytheon RAFAEL Area Protection Systems.
Currently, the Iron Dome missiles and launchers are manufactured in the US through subcontractors.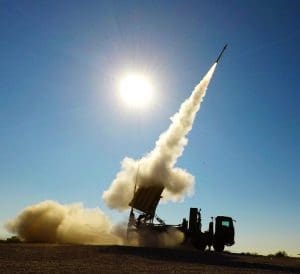 The new facility will produce both the Iron Dome Weapon System, which consists of the Tamir interceptor and launcher, and the SkyHunter missile, a U.S. derivative of Tamir. Both Tamir and SkyHunter intercept incoming cruise missiles, unmanned aerial systems and short-range targets such as rockets, artillery, mortars and other aerial threats. 
With more than 2,500 operational intercepts and a success rate exceeding 90 percent, Iron Dome system forms a major part of the defense against various challenges, including the increasing use of missile barrages.
Raytheon Missiles & Defense and Rafael have teamed for over a decade on Iron Dome, according to Rafael's announcement.
"We are excited about this new stage in our partnership with Raytheon and proud of our U.S. production," said Brig. Gen. (res.) Pini Yungman, executive vice president for Air and Missile Defense of Rafael Advanced Defense Systems. "We have long partnered on U.S. production of Iron Dome and are pleased to increase manufacturing and bring SkyHunter to the U.S."