This post is also available in:

עברית (Hebrew)
During operational activities, ground forces often lack real-time data regarding the environment they are operating in. A new member of the SkyStar aerostat family has been revealed by the Israeli-based aerostat company RT LTA Systems. The new SkyStar 120, a micro-tactical aerostat system, was recently demonstrated to the Israeli Defence Forces, and is ready for operational use.
Based on the platform of the Skystar 110, SkyStar 120 is a micro-tactical aerostat system designed to provide commanders in the field with real-time reconnaissance capability, even when operating in rough terrain.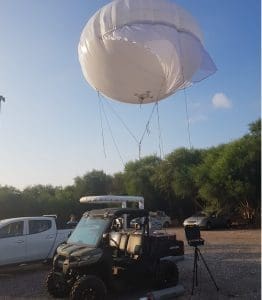 The SkyStar family of aerostats is designed for use in intelligence, surveillance, reconnaissance, and communications applications. SkyStar is a self-contained, versatile, easily transportable, cost-effective tactical system comprised of a ground control station, a ground system module, a tether, a lighter-than-air platform, a stabilized payload platform, and a sensor suite.
The SkyStar 120 Ground Control Station is mounted on an ATV (All-Terrain Vehicle) that can drive through most kinds of terrain, allowing the operating force to keep moving and maneuvering with the aerostat on the ATV alongside them, either filled with Helium and ready to be launched or already flying in the air. This allows the operating force to better fit the observation and communication lines in real time according to field conditions. Compact and robust, the SkyStar 120 is operational under extreme weather conditions and offers surveillance range of up to 1,500 feet.
The system was presented to the IDF and received great feedback, says the company.
The SkyStar aerostats are tactical systems ideal for defense, HLS, border security, search and rescue and public safety missions. Offering availability of over 85% in any given area, the SkyStar systems already accumulated more than 1,500,000 operational hours worldwide, according to the company's announcement.